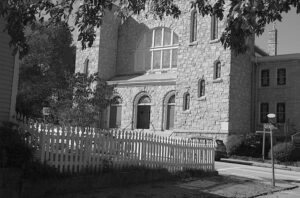 By Rebecca Wallace
If you have walked or driven past the corner of Grant and St. Paul Streets lately, you may have noticed a new banner on the beautiful granite stone building known as St. Paul United Methodist Church. The messages on the banner include: Your basketball home; Your summer camp home; Your Scouts home; Your Golden Age home.
While the church cannot possibly list on a banner all the organizations, support groups, musical groups and public events and programs that are held at St. Paul – in addition to worship services, of course – the church wishes to remind its friends, neighbors and former members all the church has hosted and supported for more than a century. Won't you come home to St. Paul?
On October 29, St. Paul will host a very special homecoming service. With a history of more than 150 years, 111 of which have been in its Grant Park location at 501 Grant Street, the church will welcome past members, special guests and past preachers, including the Rev. Susannah Davis who will preach. This very special service will be at 11:00am, followed by a covered dish lunch. The iconic red church doors will open at 10:00am for coffee and refreshments for folks to gather and visit.
The day will also include fantastic music, an historical exhibit and an opportunity to share memories and anecdotes about St. Paul for the StoryCorps project featured on National Public Radio. Come see old friends, hear great stories, and learn what St. Paul has been up to and plans for the future.
"When Lisa and I moved to Grant Park in 1987 and started attending St. Paul UMC, the congregation was mostly older people, but the young urban pioneers were starting to drift in," said Robin South. "This was where I got to know the people of Grant Park. Like today, St. Paul was a welcoming church for everyone; we celebrate our universality, not our differences."
No matter if St. Paul was your church home or your preschool home; your summer camp home or your basketball home; your Golden Age home or your home for great music, the church welcomes you back home on October 29.
To RSVP for the homecoming lunch following the service, please email Homecoming@StPaulGrantPark.org or call Leslie Truman at 404-713-2691.