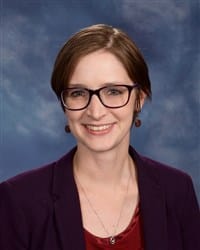 By Rebecca Wallace
This summer St. Paul United Methodist Church in Grant Park welcomed a new pastor, Rev. Cassie Rapko. Formerly an associate pastor at Mt. Zion UMC in Marietta, Pastor Cassie and her husband Chris live in nearby Gresham Heights and say they are excited to be at an intown church, particularly one that is so open and welcoming, and with such history as St. Paul has.
"I feel as if I have hit the lottery with this great church," said Pastor Cassie. "Not only is St. Paul friendly, loving, and radically inclusive, but it also has a beautiful 115 year old sanctuary. Just thinking about the number of followers of Christ who have worshiped in this space fills you with the spirit.
"I am also excited about St. Paul being in the amazing Grant Park community," she added. "It is truly a neighborhood church with many attendees walking to the Sunday morning service."
Pastor Cassie has, indeed, embraced St. Paul and the Southeast Atlanta community. Before she even arrived for her first Sunday service, she joined other members of St. Paul and a few other nearby churches and service organizations for the Grant Park Conservancy's monthly work day. She literally got her hands dirty alongside members and neighbors and helped beautify the park.
Pastor Cassie is also holding weekly "meet ups" at local establishments such as Grant Park Coffee where current and past members or people interested in St. Paul can come by for a casual one-on-one chat. To find out where she'll be "meeting up" in the coming weeks, please contact her at cassie@stpaulgrantpark.org or call the church office at 404-688-7501.
Most exciting is how Pastor Cassie recognizes the growth of our Southeast Atlanta neighborhoods and how the church must grow and develop with it. She explained, "My vision for St. Paul is to continue to be a Good Neighbor to the Grant Park community by going out into the community and building on the relationships we already have in order to share the Gospel of Jesus Christ. I see us doing this by not only continuing to offer great programs and ministries at the church, but to grow our relationships with others who are also doing awesome things in the area.
"When we partner with area events, ministries, and businesses, we can bolster the work that has been done and meet the ever changing needs that arise," she added. "The whole basis for growing the Kingdom of God is through rel ationships, so I see us growing those relationships and continuing to be known in the neighborhood as the church that folks can depend on in all times of their lives."
Sitting at the corner of Sydney and Grant Streets for more than 115 years, St. Paul is a good neighbor to the southeast Atlanta community, offering Sunday worship services at 8:45am and 11:00am, as well as recreational programs such as summer camp and youth basketball. The beautiful stone building including a sanctuary flanked with breathtaking stained glass windows is also the meeting home for area service groups and fellowship organizations such as the Boy Scouts, the Freedom Band, and the Grant Park Cooperative Preschool. More information can be found at www.stpaulgrantpark.org.