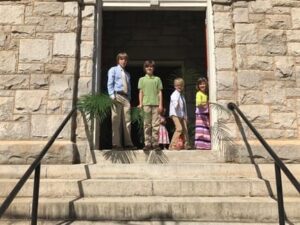 By Rebecca Wallace
Southeast Atlanta neighbors are welcome to join families of St. Paul United Methodist Church for its Annual Easter Egg Hunt on Sunday, March 25, at 10:00am. The event will be held in Grant Park at the intersection of Cherokee Avenue and Sydney Street. A light breakfast will be provided.
After the Egg Hunt, the kids will lead a procession with palm branches to St. Paul for Palm Sunday worship at 11:00am. All are welcome to attend service, but this is not required for participation in the Easter Egg Hunt.
"For those who may not be familiar with traditional church services, the palm branch processional is a spiritual and sweet way to kick off the special services of Holy Week," explains St. Paul Pastor Ellen Hopkins.
Looking ahead to the summer, families may want to save the date for St. Paul's Vacation Bible School, which will be held from 9:00am to 12:00pm from June 4 through June 8.
For more information, please visit www.stpaulgrantpark.org or call the office at 404-688-6501.