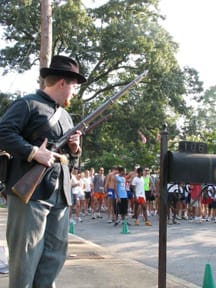 By Henry Bryant
For the active recruit, BATL has a 5K and a 6-mile bike tour around the Battle of Atlanta battlefield. There may not be a better way to commemorate the historic battle than to run or ride in the path of the soldiers. Even with no gunplay, it does give one a more complete appreciation for the activity in 1864. At least modern day participants don't have to do it in wool uniforms.
The 5K, called the Doublequick is named for the marching orders of the troops as they moved into battle. It is not too late to sign up since runners can register at the starting gate in Bessie Branham  Park at 8:00am on July 16. Or if you hurry doublequick you may qualify for the online discount (www.batlevent.org).
The bike tour may call for an extra doublequick response since places are limited and the time is growing short before the July 16 tour date. This year BATL is partnering with East Atlanta Kids Club to offer the tour. Participants can bring their own bike and helmet or arrange a loaner for $5 extra. Tour tickets ($25) are also available online ($30 day of).