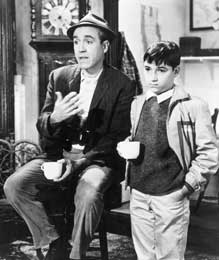 By Steve Whiteman
Wandering back into your local coffee shop, you overhear a vaguely familiar conversation: "… he's been providing for the kid for seven years, and then the social workers try to take him away." You turn and discover it's the same couple as last month.
"It sounds like a downer," she says. "No, no. Jason Robards is this non-conformist, kind of hippie-like guy, except he's a comedy writer. He quits his job on general principle, and then reality sets in. It's thoughtful, but really funny," he says. "You need to see it."
Clearly your coffee shop is frequented by classy, sophisticated types who are planning to attend the November 11 showing of A Thousand Clowns (1965) at the Life is Too Short to Watch Lousy Movies film seminar. No doubt they'll attend in December as well, when the screening will deal with the meaning of life and the questioning of values.
The Life is Too Short… movie group meets in Ormewood Park on the second Saturday each month at 6:00pm. New people can sign up for the mailing list or get more information, on the Contact Us page of the group's website, www.ClassicFilmAppreciation.webs.com.