By Riki Bolster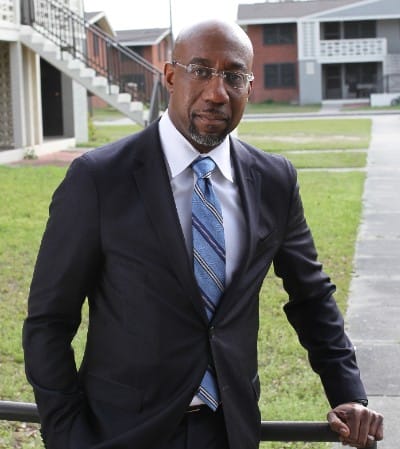 Led by State Senator Nan Orrock and State Representative David Dreyer, neighbors in the NPU-W area spearheaded a Conversations with Warnock online event for their Woodland Hills neighbor Raphael Warnock, candidate for one of two U.S. Senate seats. Warnock is running for the seat currently held by Kelly Loeffler. (Jon Ossoff is running against David Purdue.)
Loeffler was appointed to the unexpired term of Johnny Isaakson but must stand for election in November to complete Isaakson's term. Not preceded by a primary, this race is wide open. Appropriately called a "jungle primary," the seat goes to whoever can muscle enough votes in a field of twenty-one candidates. If any candidate garners 50 percent-plus-one votes, they would be sworn into office the next day.
The virtual Zoom meeting on Tuesday, September 28 featured Reverend Raphael Warnock sharing his background and concerns with around forty individuals in attendance. He described how as a child he and his eleven siblings lived in Kayton Homes housing in Savannah and said, "The kid who grew up in the projects was called to Martin Luther King Jr.'s pulpit." Fourteen years ago he became the senior pastor at Ebenezer Baptist Church. Warnock graduated from Morehouse College and earned a PhD from Union Theological Seminary.
"Raphael Warnock and I have worked together on many issues since he became senior pastor at Ebenezer and our neighbor in Ormewood Park," Orrock said. "I respect and applaud his commitment to fight for things we need: affordable quality healthcare, a livable world, a decent income, voter protection, and criminal justice reform. We're very fortunate that we have a person with his values and proven leadership to vote for on November 3," she said.
Although this is Warnock's first run for political office, he is not a stranger to activism. In March 2014, he led a sit-in at the Georgia State Capitol to urge Governor Nathan Deal to accept the expansion of Medicaid offered by the Affordable Care Act. He said if that had happened, "Today, 518,000 Georgians would be eligible for healthcare."
Warnock believes that America is at a crossroads. "I think lying before the American people is a basic idea about what we actually are and what kind of country we want to be," he told the Columbus Ledger-Enquirer at a recent campaign event.
Warnock wants to run a grass-roots campaign including yard signs in communities throughout Georgia, not just in the neighborhoods of NPU-W. "As supporters across Georgia rally around Reverend Warnock's campaign to represent all Georgians, we are thrilled to see such strong support in Grant Park, Ormewood Park, and the surrounding areas," said Terrence Clark of the Warnock campaign. "Atlanta communities know Warnock's record of service and advocacy from the pulpit of Ebenezer Baptist Church, and when elected to the Senate, Warnock will continue to champion the same values of healthcare access, dignity of work, and equal justice under the law in Washington [that] he is known for by his neighbors right here in southeast Atlanta."