By Andy Schneggenburger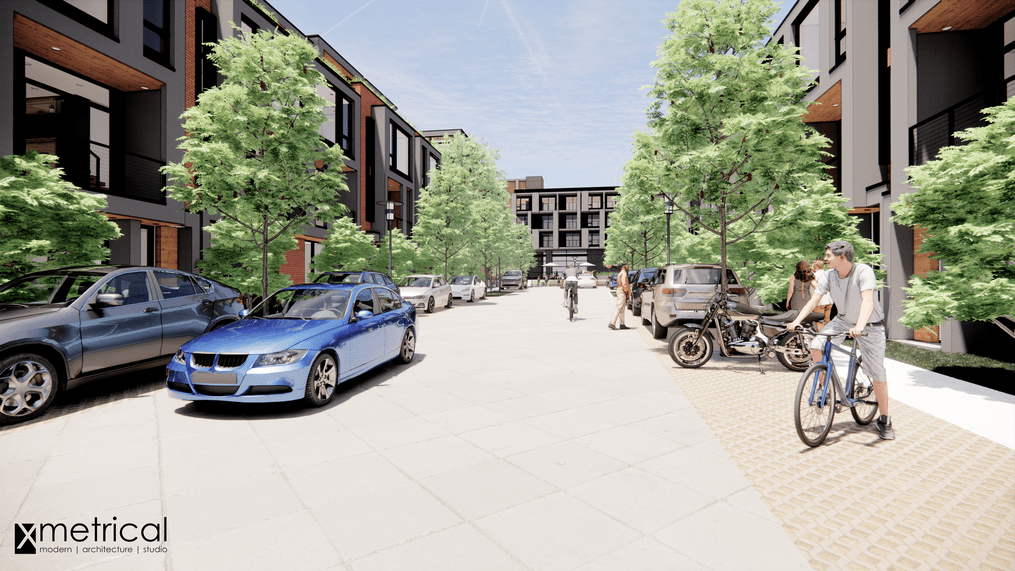 The Skyhaven Quarry development continues to evolve and progress. Led by East Atlanta neighborhood residents Jesse Clark (Clark Property R+D) and Andy Schneggenburger (Porch & Square), the project's site plan and architectural design continues to be refined while the team moves through the process of obtaining entitlement from the City of Atlanta and DeKalb County.
The Skyhaven Quarry project now includes the current Family Dollar and cell tower parcels at the corner of Skyhaven Road and Moreland Avenue, as well as the parcels at 1058 and 1078 Moreland (excluding the Papa John's property), a combined 11.8 acres. Six community design meetings and an electronic survey have facilitated a collaborative design process, creating a development concept responsive to community vision.
The final concept donates four acres of land to DeKalb County at the center of the property for future park space. Vertical development is limited to the edges of the site. The donated land will include Ripplewater Creek, the former city-owned granite quarry, and a sizable portion of the 50-year urban forest which has grown since the quarry was abandoned years ago.
The Moreland frontage will hold 4-story mixed-use buildings with ground-level retail and apartment homes above. Townhomes organized along a central pedestrian-oriented east-west street will sit directly behind the mixed-use buildings. The central street will be a part of an internal trail that connects the east and west sides of the property, integrating access to the park at the center. A small cottage court group of 16 homes will sit on Shadowridge Drive, adding to the mix of housing options.
The development team also hopes to collaborate proactively with Georgia DOT and the City of Atlanta to facilitate the future alignment of the Skyhaven/United/Moreland intersection, currently one of the most dangerous intersections in southeast Atlanta.
Public meetings for the zoning amendments are on the calendar in May, June, and July. Please visit the project website at www.skyhavenquarry.com for more information.
According to Andy and Jesse, DeKalb Commissioners Johnson and Terry, and Councilmembers Bakhtiari and Winston have been invaluable in their guidance through this very complicated project. The Conservation Fund and other conservation organizations, and the local South Moreland Avenue Working Group are also helpful partners. Jesse and Andy are excited about the quality of the design for this project, which would not have been achieved without the neighborhood residents and stakeholders who continue to contribute energy and hours of time.