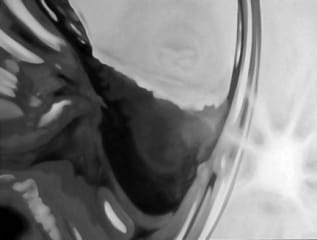 By Linda Bernard
The film industry has encouraged local artists of all kinds, not just actors. Beginning in December, the Friends of East Atlanta Library will host a visual artist whose large-scale murals and backdrops brought her the opportunity to practice her art for the film industry. Now her Atonement Series of paintings will be on display at the Library's gallery space into the new year.
Nancy Ballew is a resident of Atlanta's Edgewood neighborhood and has been a working artist for three decades. She began her study of art as a child, and she was accepted for enrollment in the Alabama High School of Fine Arts. As a high school junior, she did an independent study in art at the University of Chicago Lab Schools. In college she received her Associates Degree in fashion illustration from the Art Institute of Atlanta and her Bachelors Degree in fine art from Auburn University.
Over the years, Nancy Ballew rarely painted for herself, but became inspired to do so in 2008. She had become increasingly engaged in spiritual pursuits, and wanted to create a union between her outer and inner work. Thus the "Atonement" concept was born. The series includes 10 intensely colorful, high-contrast abstract paintings that challenge the viewer to understand that light and dark are inseparable, as are all polar opposites.
In each of Nancy's paintings, the deepest black can be experienced as some unknown depth haunted by fear and sorrow, yet each piece also incorporates pools or bursts of white dramatized by the contrast of darkness. Various colors are intensified by outlines of their opposites on the color wheel, and the hues and values of the pieces are experienced to the fullest because they are so closely connected to their opposites.
Nancy Ballew believes that, like the paintings, life is a crescendo of joy, despair, and everything in between. She says that when one understands joy as experienced in contrast to darker emotions, one not only accepts but also begins to welcome the darkness. Her exercise in representing wholeness in this two-dimensional format resulted in her own profound spiritual awakening that took place the morning of the series' first opening. This awakening brought her the peace and compassion that comes from acceptance of life on life's terms with all of its highs and lows, its suffering and ecstasy.
The exhibit of Nancy's work continues into January 2014 and can be viewed by visiting the library during regular hours and requesting access to the gallery area. The Library is located at 400 Flat Shoals Avenue at the new roundabout near Moreland Avenue.