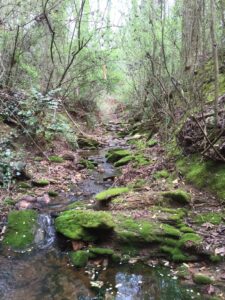 By Grant Dollar
Neighbors in East Atlanta continue their efforts to preserve new community greenspace near the corner of Flat Shoals and Ormewood Avenues. Facing an uphill battle against a developer who has threatened to bulldoze all the trees on the property, and transitional city leadership, community members have banned together to preserve the forest and stream under the moniker Save Ormewood Forest.
The effort to Save Ormewood Forest picked up steam in early 2017 with City of Atlanta officials showing interest in preserving large tracts of forested property. After productive meetings between group members and city officials, initial movement was made towards the city purchasing and preserving of the property. Unfortunately, developer Heritage Capitol Partners purchased the land before the city approached the previous landowner.
Heritage Capitol Partners (HCP) brought forth several nearly identical development plans, each requiring the same thing: zoning changes to allow for significantly higher density. Between their unwillingness to meet requirements for rezoning and the huge ecological impact of their plans, these developers have made very few friends in East Atlanta. The overwhelming community turnout at NPU and EACA meetings voted down each of their plans almost unanimously.
The city has now rejected HCP's rezoning request, but HCP owns the land and can still develop single-family homes. As it became clear HCP would not get what they want, their attorney seemingly threatened the city by stating the intent to "bulldoze these trees and fill in the land" so that the stream can be "piped underground and (the property) managed as a flat parcel."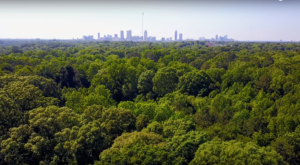 To understand the impact of this threat, imagine over 200 trees in an old growth forest disappearing from the heart of East Atlanta. Once they are gone, the two-story tall ravine that feeds Intrenchment Creek would be filled in, and the stream would disappear forever. Now imagine how that will impact the surrounding property, the downstream neighbors, and the wildlife and migratory birds that call Ormewood Forest their home.
Ormewood Forest remains as threatened today, as it has ever been. The Save Ormewood Forest group is continuing its pursuit to preserve our community's natural assets, and they welcome help from all that are interested. Their approach includes working collaboratively with city officials, engaging environmental stewardship organizations, and spreading the word at events around the city. If you would like to get involved, you can find more information at ormewoodforest.com, on Facebook, and at ormewoodforest@gmail.com.