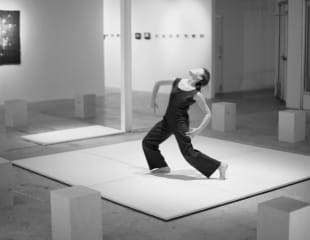 By Barbara Antonoplos
Grant Park native and modern dancer and choreographer Helen Hale will be presenting her original one-woman show entitled
Sanity Ceremonies
at 7 Stages Theatre in Little 5 Points on November 1, 2, 7, 8, and 9 at 8:00pm.
Hale was born and raised in Grant Park and has danced all her life. Returning to Atlanta after earning a BFA in Modern Dance and Choreography from Temple University in Philadelphia, Hale has become a prominent player in Atlanta's arts community. In 2011,
Creative Loafing
featured her as one of "Seven of Atlanta's Most Captivating Creative Minds." She has recently been named one of
Arts ATL's
"30 under 30." During the past year, Hale's work has included a commission by the High Museum of Art in conjunction with the Frida Kahlo/Diego Rivera exhibit, a new work presented at the Museum of Contemporary Art of GA, a collaboration with PushPush Theater, professional development fellowships in the arts through Creative Capital and WonderRoot Community Arts Center, and creative residencies at The Hambidge Center for Creative Arts and Sciences and Theater Emory, through the Lucky Penny's Breaking Ground Residency. In addition to presenting her own choreography in numerous venues in Atlanta, Hale's professional career has included performance for other choreographers in Atlanta, Philadelphia, and New York. In 2012, she was awarded a start-up grant from Idea Capital for the creation of
Sanity Ceremonies
.
Sanity Ceremonies
is a foray into the world of being both in-stride and off-kilter, in which Hale pieces together colorfully layered conclusions about what it takes to find equilibrium in a multi-faceted and often chaotic, baffling world. The production takes form through a marriage of dance, text, video animation, costume, and prop use that draws from a range of daily rituals, archetypal figures, cultural idiosyncrasies, and autobiographical anecdotes as Hale plumbs the material of her own day-to-day realities as an artist. She examines the beauty, enigmas, and spice of her unique family heritage, and she aims to present a story that will translate universally by grappling with big but basic questions in a personal voice. "This is a challenging and exciting piece for me as director and performer. I'm stretching my choreographic modes to communicate the humor, eccentricity, and absurdity of my life, and to provide a playfully honest portrait of what it looks like to struggle day after day, not only to make it through, but to reach for the stars," said Hale. Her creative collaborators include local artists and designers Mike Boutte of East Atlanta, Amanda Baumgardner, Elwen Hau, and Danny Davis.
Hale is delighted at the prospect of sharing this performance with her neighbors in the community that helped shape her. For details regarding
Sanity Ceremonies
performances, please go to
www.helenhale.com
or call 7 Stages Theatre at 404-523-7647.