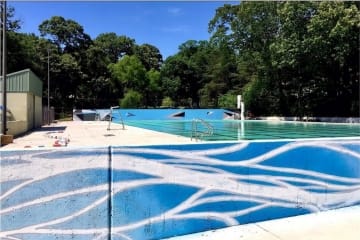 By Morgan Hamlin
With the help and support of the city of Atlanta's Department of Parks and Recreation, the Grant Park Conservancy (GPC) was able to commission two new murals for the Grant Park pool. The murals were completed in advance of the 2017 season's opening day on May 27. (Thanks to artist Lee Arnett and his apprentice Josh Guede.)
Arnett grew up in Alabama, moved to Atlanta to pursue fine arts, and has since moved to creating larger pieces of art work. He is inspired by artists such as Keith Haring, Diego Rivera, and James Pollock because of their drive and innovation. Arnett focuses on three main styles, including sacred geometry, Aztec patterns, and abstract one line figures. After much convincing from his friends, Arnett started his own line of minimalist clothing, where each article of clothing has only 12-15 copies made.
Guede's style is different from Arnett's, but they helped balance each other during the mural project. At one point during the project, the artists bought out all the blue aerosol paint in Atlanta, forcing them to use innovative techniques to complete the mural, including color matching and rolling out a separate paint.
Arnett feels that public art is important to the community because art reflects emotion and acts to liven up a space. The existing pool murals were painted in 2003, in tandem with upgrades to the pool itself. After more than a decade of exposure to the elements, the old murals became "faded and dated," according to Alisa Chambers, the director of operations for the GPC. "We were really happy that everything worked out and we were able to help facilitate a public art upgrade. It's so much more welcoming when you enter the pool deck now."
Arnett and Guede have created two murals, which Arnett describes as "timeless." Arnett always has been inspired by this sacred geometry style, which helped him create the large back wall mural, featuring a modern triangular pattern. The second, smaller mural design features alternating blue and whitewater tones, forming a wave pattern. Other examples of Arnett's work can be found at gusto! and Cactus House in Midtown, and a large mural in Castleberry Hill.
Ultimately, Arnett wanted the murals to reflect the vast space the Olympic-sized pool provides, something simple, yet dynamic. Now that the murals are complete, there are plans to update the concrete animals located at the front entrance of the pool in similar coordinating colors. These concrete animals have been with Grant Park since the pool's opening in the 1970s, and also are ready for an update. The murals were finished in time for the Memorial Day weekend, so guests would feel welcome and relaxed upon entering the deck. The pool will be open through Labor Day, so get outside, soak up the sun, take a dip, and enjoy some of Atlanta's public art.