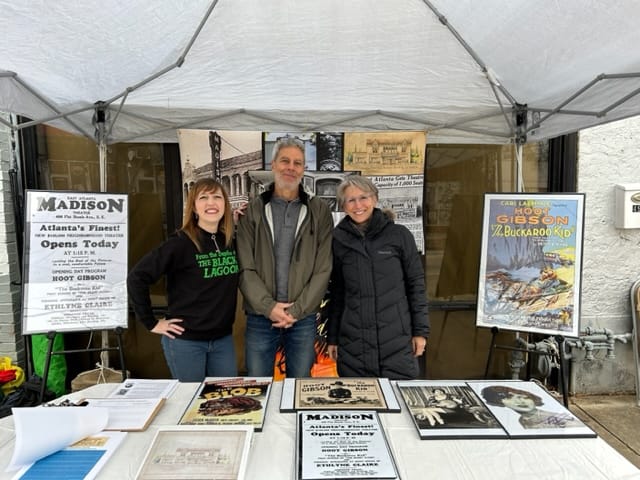 By Jenny Murray
On February 11, the Madison Theater in East Atlanta was included in an "Historic Theaters Expedition" conducted by The Georgia Trust for Historic Preservation and the Fox Theatre Institute. Approximately 150 attendees toured the interior of five historic theaters which included the Fox and Plaza Theaters. In addition, an exterior tour of the Madison Theater was on the itinerary.
Representatives from the non-profit "Friends of the Madison Org" (FOMO) set up a display with images of the original conceptual drawing of the theater, early and current day photographs of the interior and exterior and movie posters of films shown back in the day. They also shared an overview of the rich history of the theater which was built in 1927 for $85,000. At the time, it was considered one of the finest and most expensive neighborhood theaters in the South. An advertisement in the Atlanta Constitution stated "It surpasses any community theatre in the city or state and is equaled in magnificence and splendor by no other save one in the entire south. Throughout, it is splendidly constructed and appointed: and the ventilating and seating arrangements assure patrons the utmost comfort."
The Madison Theater operated until the 1960's. After that, it was used for a church, and then storage. Currently, the space has been divided into retail spaces that house a variety of small businesses while the theater area remains vacant. The Madison Theater was placed on The Georgia Trust's list of top 10 "Places in Peril" in 2019.
Anyone interested in learning more about the Madison Theater can contact East Atlanta Business Association at hello@eastatlantabiz.com.