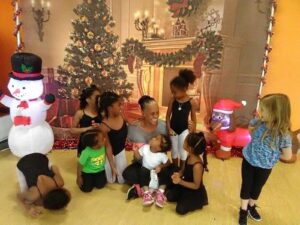 By Jean Hallman
When the weather starts to warm up, kids want to be outside and moving. However, finding ways to keep them active on a tight budget and busy schedule is not always easy. It is never too early to start planning, and now is a great time to start thinking about spring break and summer camp activities.
If you or your kids are interested in the idea of dance or acting, Kids Dance 411 has some great camp options. You can count on talented and experienced instructors to spend the week educating your children with a carefully designed curriculum. Dawn Humphrey-Shaw has been involved with Kids Dance 411 programs for four years. "My favorite part of the kids' program are the kids," said Humphrey-Shaw. "I understand after 40 years of teaching that children are amazing instruments."
We all know that it is good for kids to stay active, but a structured environment for movement can be especially beneficial. A few benefits can include discipline, self-respect, self-confidence, improved learning skills, creativity, self-expression, imagination, and an instilled appreciation for dance as an art form. "I want the children to gain knowledge of technique, quick study skills, and discipline, as well as self-esteem and confidence," said Humphrey-Shaw.
Spring Break Camp will be held the week of April 3. Summer Break Camp begins May 30, and runs through August 4. Camp hours are 9:00am to 4:00pm, with extended hours available from 8:00am to 6:00pm. Camp includes children ages 5 to 13 years old; all experience levels are welcome. Prices for the camps start at only $19. Take a look at www.KidsDance411.com for weekly pricing, extended care, and early bird pricing.
For more information on classes, programs, events, or to register for camp, visit www.Dance411.com, call the studio at 404-622-4110, or email Info@Dance411.com.