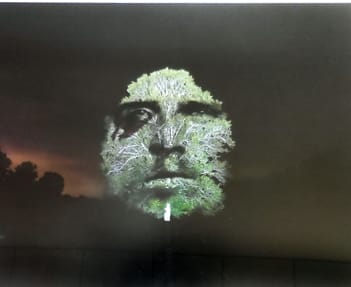 By Henry Bryant
A new art show is on display at the East Atlanta Library. The Friends of East Atlanta Library present artist Jeff Beekman, currently based in Tallahassee, Florida, who has brought works from his Battlefield Series to the library's Gallery Wall. The display will remain throughout the month of June and through July 22, the anniversary of the Battle of Atlanta.
Beekmam, a professor at Florida State University, is a multi-disciplinary artist whose work since early 2000 has explored the interrelationships between land, memory, and human activity. Over the past few years, this has taken the form of photographic works exploring the highly negotiated spaces of Civil War battlefield sites. Particular concern is paid to how these sites have evolved from the scarred and blood-soaked fields where tens of thousands fell and died, to become the tourist attractions, running trails, research sites, and re-enactor playgrounds they are today. Most recently, Beekman has been exploring the history of United States Colored Troop units in these locations and how the efforts and sacrifices of these black soldiers are specifically memorialized.
The photography presented at the library now was shot mostly on the battlefields at Gettysburg at night and then combined through projections with other historical images found in research by the artist. The result is striking.
The Friends of the East Atlanta Library will host a free artist talk at the Jimmy Carter Library on Thursday, July 20, at 7:00pm, where Beekman will present a slide talk about the battlefield series as well as some of his more recent works. Then, on Saturday, July 22, from 3:30pm to 5:30pm, there will be an artist reception at the East Atlanta Library with wine and other refreshments.
The BATL organization has a long history of partnering with the Friends of East Atlanta Library, and these programs have been scheduled in conjunction with this year's commemoration of the battle. There will be a tour as well as the wreath-laying ceremonies at the two monuments. More information about the artist programs and other July activities can be found on the web at www.batlevent.org.