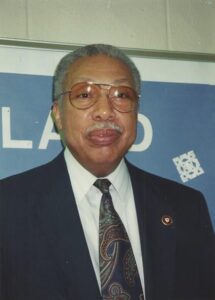 By Henry Bryant
In August and September the Friends of East Atlanta Library and the Atlanta Fulton Library System will feature art works by longtime Atlanta Public Schools Principal James Doanes. Most recently in retirement from the school system, Mr. Doanes had returned to assist both Peterson Elementary and Burgess Elementary in meeting student achievement goals. After the two schools merged, he continued that consultation with Burgess Peterson Academy. Burgess Peterson Academy has vastly improved their standing since that time. Mr. Doanes is returning to the neighborhood with samples of his artwork in his first ever showing at the library in the East Atlanta Village.
Mr. Doanes who lives in southwest Atlanta, had until recently maintained his connection with our neighborhood by serving on the Board of the East Lake Family YMCA which is connected to the Drew Charter School and is on the grounds of the old Drew Elementary. Mr. Doanes was the last principal at the old Drew which was located in the midst of the East Lake Meadows Housing Project. The children at the school came from economically challenged families at the Federal housing project, but were viewed by Doanes as like any other children. He worked closely with his staff and the community to insure maximum educational growth for them.
Although Mr. Doanes has always had a great interest in all forms of art, he could be classified as a "self-taught" or Folk Artist. His educational career training came at Clark College, West Georgia University, Georgetown University, and the Masters Degree program at Atlanta University. But his formal art training includes only a few art classes from High School in East Point, and at college. However, he has always created, enjoyed and appreciated art. Doanes expresses himself through different media and forms of art. He sees a piece of art he likes, examines it and using it for inspiration creates an entirely original work of art. His collages were inspired by the work of noted artist Romare Bearden, but his "rock art" comes from more humble inspiration discovered in trips to the American West.
The work that will be on display on the East Atlanta Library Gallery Wall will include works of painting, collage, mixed media and photography including works from Doanes' travels for the Peace Corps in Ethiopia. During regular library hours, you can access the show by asking at the circulation desk. The show will be on display from August 10 through the month of September. There will be an opening reception on Saturday August 18 from 3:30pm until 5:30pm. Visitors will get a chance to chat with the returning educator about his creations and enjoy wine and other refreshments. All are invited to this free event.