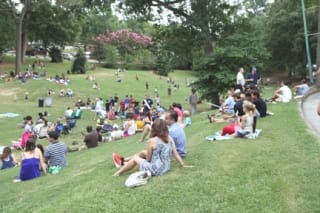 By Carrie Whitney
The 11th Annual Grant Park Summer Shade Festival brings a weekend of diverse live music to the historic Atlanta neighborhood. While the festival has long welcomed talented local musicians, the 2013 lineup includes several acts with national recognition, assuring that the shady hills of Grant Park will be filled with audiences all weekend.
Bands confirmed for 2013 include the Southern rock of Lee Bains III and The Glory Fires, guitar hero Michelle Malone, the moody rock ensemble The Old Ceremony, and the alt-country noise rock-inspired New Madrid. Reviews for these performers can be found in the likes of Rolling Stone, and the Summer Shade Festival offers a chance to see them for FREE.
Additional confirmed bands performing include The Wheeler Boys, James Hall, Cigar Store Indians, Roxy Watson, Blair Crimmins & The Hookers, and The Higher Choir. More bands will be announced soon, and the full schedule will be available at
www.summershadefestival.org/artist-market-music.
The Grant Park Summer Shade Festival takes place Saturday and Sunday, August 24 and 25 in Grant Park.