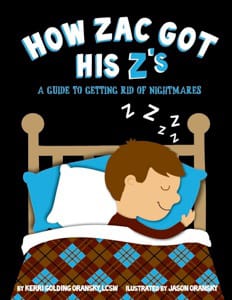 By Penny Luck and Kerri Oransky
In How Zac Got His Z's: A Guide to Getting Rid of Nightmares, Zachary is plagued by nightmares and is afraid to fall asleep. After sharing his fears with his best friend Maddie, Zac learns the secret to conquering his bad dreams.
Studies estimate that as many as 50% of children ages 3 to 6 have nightmares that disturb the sleep of both parent and child. While some parents are able to comfort their child by reassuring them it was just a dream, for many this isn't enough. How Zac Got His Z's: A Guide to Getting Rid of Nightmares may provide just the solution that parents need. This book is based on re-scripting, an intervention author and child therapist Kerri Golding Oransky has used in her practice for years. Her husband, Jason, provided the adorable illustrations.
"I've always thought about putting this idea into book form since I've seen just how successful it has been with my clients," says Oransky. "After I married a talented artist, I jumped at the chance to collaborate with him on this book. I think we've created a valuable resource for children, parents, and therapists alike."
Intended to entertain and educate, this 24-page picture book features fun rhymes, engaging illustrations, and drawing pages at the end, so children can begin solving their nightmares issues immediately.
Kerri Golding Oransky is a licensed clinical social worker that specializes with Children and Adolescents. She has over 15 years of experience working with children and adolescents in a variety of different settings, including in-home, outpatient, school-based, and inpatient facilities. For the past eight years, Kerri has been in private practice at Georgia Therapy, Inc which has several offices in Metro Atlanta. She lives in Grant Park with her husband Jason. She is a graduate of the University of Florida and a diehard Gator fan.
Jason Oransky is a graphic artist and freelance designer. For the past eight years, Jason has been designing artwork on baby clothing for the popular brand Carter's. He has also illustrated three children's books in the Dear Baby Series. Jason has a freelance design company, 7th Sense Designs, where he designs logos, business cards, brochures, and websites. Jason is a graduate of Florida State University and a diehard Seminole fan.
How Zac Got His Z's: A Guide to Getting Rid of Nightmares is available on Amazon.com in both print and electronic versions. It can also be downloaded on www.getridofnightmares.com and is available at Grant Park's newest children's consignment shop, Baby Love.