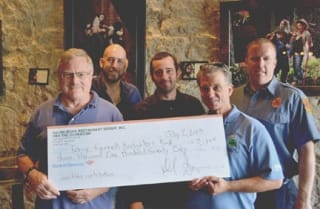 By Dan Simpson
The Glenwood Neighborhood Pub in East Atlanta Village held its sixth anniversary party on Saturday, June 22. As in years past, the highlight of the event was a giant raffle to benefit a worthy charity.
This year the beneficiary was the Terry Farrell Firefighter Foundation. Terry Farrell died in the 9/11 tragedy, and the charity which bears his name raises money for families of first responders who have died in the line of duty across the country. Liquor and beer distributors were very generous in donating a splendid array of goods for the raffle including many coolers, golf bags, an electric guitar, a wakeboard, and a bicycle.
The Glenwood was packed with patrons who had purchased $2 tickets and enjoyed half-price libations. Fire trucks parked on the street outside promoted the festivities inside. CNN personality Mike Brooks emceed the raffle. Those who did not win anything received T-shirts and other swag. DJ LoweKi held forth after the raffle until closing (kindly donating his services), and the crowd danced the night away.
The Glenwood donated 10% of sales for the day. Together with ticket sales, the total raised came to $3,170. All in all it was a night where everyone came out a winner.
The Glenwood
opens on weekdays at 5:00pm, and on weekends at 12:00 noon for brunch featuring $1.49 mimosas. View the menu, entertainment, beer list, and daily specials at
www.glenwoodatl.com
.