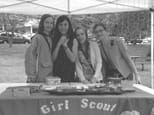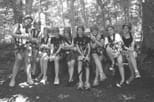 By Gracelyn Bayliss and Kate Rouse
Hello, Grant Park! Does anyone out there remember last spring's Girl Scout fundraising booth at the Sunday morning Grant Park Farmer's Market? It was a very successful sale. For the booth, each Girl Scout designed and created ten handcrafted items, each priced at $5. They would like to thank everyone, especially the people who purchased items from their booth. They met their sales goal and, using the funds raised, got to go Glamping (Glamorous Camping) at North Georgia Canopy Tours. The Glamping trip was a really fun time of bonding and outdoor activity for the group. They planned their meals, did some of the outdoor cooking, and rode an amazing
zip line course. And who can forget those giant
teepees with furniture inside? The sales boosted their funds and made the trip possible.
At the start of this school year, the seventh grade Troop 3107 Girl Scout Cadettes decided to take charge in planning another
Girl Scout trip. This trip will most likely require traveling by plane. (Yes, it's going to be a
big
trip.) In addition to each girl raising funds on her own through babysitting, pet sitting, and similar activities, they plan to set up another fundraising booth. This time the booth will be inside St. Paul United Methodist Church. They will be selling on December 14 and 15 at the Artist Market taking place during the 33rd Annual Candlelight Tour of Homes.
Selling hours will be from 4:00pm to 9:00pm on Saturday and 6:00pm to 9:00pm on Sunday. This time each Girl Scout has the responsibility of making at least
15 items to sell, so there will be an even greater selection for shoppers. Some examples of items are T-shirt scarves, pear butter, jewelry, and hand-made potholders. Just like last year, each item is $5. If you come to the Artist's Market, please be sure to stop by their booth. They would love to help with your holiday shopping!
Kate and Gracelyn are both 7th-grade Cadette Girl Scouts with Troop 3107.