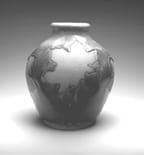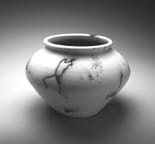 By Janet K. Carter
Local potter Lori Buff of Future Relics Gallery is holding her annual studio sale on November 29 and December 1 at her home studio in East Atlanta at 991 Bouldercrest Drive. The timing is designed to allow shoppers to take care of all their holiday shopping needs with hand-crafted mugs, bowls, vases, dinnerware, casseroles, and so much more. Lori will have new work from a recent wood firing and from her summer residency in North Carolina, as well as some East Atlanta favorites like dragon steins and her signature horsehair pieces.
Lori started her pottery career many years ago after discovering the medium in high school. Taking a 27-year detour that included a road trip around the U.S., work in security, public service, and a stint in the corporate world, she eventually found her way back to her first love and has since established her home and studio in East Atlanta.
Lori's work is well-known in the Atlanta area; she exhibits at many local festivals including the Inman Park Festival, EAV Strut, the Stacks Lofts + Artists tour, and has had work displayed in several local businesses such as The Mercantile (Candler Park), Donna Van Gogh's (Candler Park), HodgePodge (East Atlanta), Charis Books and More (L5P), Paws, Whiskers & Wags (Decatur), At the Collective (Old Fourth Ward), and Mudfire (Decatur). If she isn't at her studio, you can often find her teaching, firing, and communing with fellow ceramic artists at Mudfire Clayworks in Decatur.
Stop by 991 Bouldercrest Drive on November 29 or December 1 between 12:00pm and 5:00pm to take advantage of specials on seconds and "old" pots, see what's new, and grab a cookie and a cup of hot cider. Check out the Future Relics Gallery Facebook page to learn more and to RSVP.