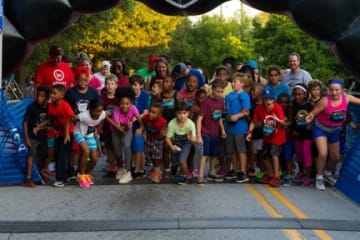 By Erin Jewell
The Burgess-Peterson Academy (BPA) PTA is delighted to announce that the EAV Runfest will return to East Atlanta Village (EAV) for its fourth consecutive event on Sunday, September 3. Proceeds from the event directly benefit Burgess-Peterson Academy, which serves students from the East Atlanta and Reynoldstown communities.
EAV Runfest is far from what many would expect for a standard road race. Taking place in the evening, this series of races includes a traditional 5K, a half-mile fun run, and ends near twilight with a two-lap, spectator-friendly, one-mile competitive race right through the heart of EAV. A prize purse of more than $1,000 will be awarded to top finishers, and medals, hand-crafted by BPA students, will be awarded for all age group category winners.
Burgess-Peterson Academy PTA Runfest Chair Suzanne Jacobs said, "We are excited to offer an active, family-friendly, Labor Day weekend event that is not only close to home, but focused on building community. Over the past four years, we've been fine-tuning the event format. Last year, we moved the start and finish lines onto Flat Shoals in the heart of East Atlanta Village, and found that it was a really positive experience for runners and spectators. The new location, coupled with the three-event format of the race, encouraged the community to connect with one another and for families to engage with each other and the surrounding businesses. I'm looking forward to building on that success for an even more energetic event this year."
To find out more about the race, check out the race website at www.runeav.com. For race registration, log onto https://runsignup.com/Race/GA/Atlanta/EastAtlantaVillageRunFest.
Burgess-Peterson Academy is an Atlanta Public School primary elementary school serving students in Pre-K through 5th grade in the East Atlanta and Reynoldstown communities.