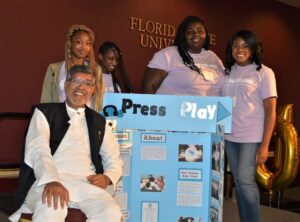 By Jill Sieder
Teen members of the East Atlanta Kids Club (EAKC) recently enjoyed a rare opportunity to meet with a Nobel Peace Prize Laureate as part of a regional youth leadership conference to promote social justice.
The teens attended PeaceJam Southeast, an annual conference held at Florida State University in Tallahassee in April during spring break. They came to meet other youth activists from across the Southeast and learn about ways to create projects for social good and to be change makers in their communities.
East Atlanta Teen Club members Janiya Brown, Sanijala Stephens, Amyriah Johnson, and Janiayh Johnson traveled to PeaceJam as the culmination of a social justice themed audio journalism project they had been working on for eight weeks. In February and March, they and other Teen Club members, worked with journalists and community activists in Atlanta to create a podcast that explores issues of concern to themselves and their community.
After learning how to research and define issues, use audio equipment, and conduct interviews, they honed in on the following subjects: gentrification and the loss of affordable housing in south Atlanta, disappearing trees and threatened forested areas in the city, and the ways in which artists can use their voices and art to bring attention to important issues. Their 40-minute podcast was recorded and produced with the assistance of program staff and teaching artists at Wonder Root Community Arts Center, which also coordinated and funded the "Press Play" project. The teens took a selection of their podcast audio to PeaceJam in Florida, where they had the opportunity to present it to the more than 400 youth activists in attendance, as well as Nobel Peace Prize Laureate Kailash Satyarthi, who won the prestigious peace prize in 2014 for leading a global movement to end child slavery and exploitative child labor practices. Mr. Satyarthi, who began his work as a peace builder and social activist as a teen in his native India, praised their work and encouraged the East Atlanta teens to keep working for social change.
The two-day conference also featured workshops on youth leadership, social justice, political advocacy, empowering girls and women, and recognizing diversity. Students participated in community service projects, with some joining Satyarthi and visiting students from Marjorie Stoneman Douglas High School in Parkland, Florida, in an anti-gun violence march and protest on the FSU campus.
Teen Club member Janiya Brown, 17, says she was inspired by the experience, and says she is even more motivated to continue her budding efforts as a community organizer in south Atlanta. "I realize I'm not the only one who finds it hard to speak out about things that are wrong and unfair," she says. "I feel ready to push past that fear and be the leader that I know I can be."