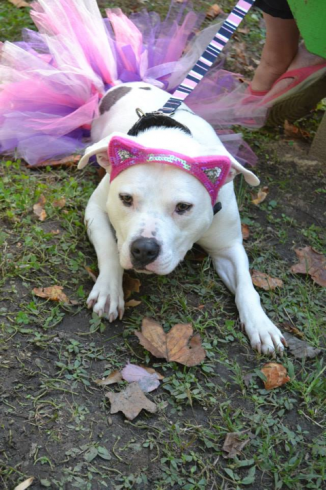 By Jennifer B. Jacobs
Dogtoberfest in EAV returns on Sunday, October 19 to the delight of area dog lovers. At last year's event, animal lovers and local business owners came together to celebrate dogs, promote responsible pet ownership, and raise money for local rescue organizations. Thanks to overwhelming community support, it was a huge success, attracting more than 300 dogs and 500 people. An even bigger turnout is expected at this year's event, which will be held from noon to 4:00pm in the East Atlanta Village at the East Atlanta Farmers Market space at 561 Flat Shoals Avenue.
This dog and family friendly event offers a Halloween costume contest for dogs, low cost micro chipping, dog massage demos, vendor booths featuring local businesses and artists, story time for kids, yummy treats (for humans and dogs) and raffle drawings for a wide variety of prizes. Of course, a parade of adoptable dogs from various rescue groups will help those who might be looking for a new best friend. The entrance fee is $5 per dog.
East Atlanta Village residents Lauren Janis of Big Daddy Biscuits and Morieka Johnson of Soulpup.com founded the event last year, but they decided to do things a little differently this time when determining which group would benefit from the event proceeds. Local rescue groups submitted an application for the 2014 Dogtoberfest in EAV grant. Proceeds from this year's event will go to the winning organization, Pitties in the City.
"Atlanta has so many amazing rescue organizations," said Johnson. "We selected Pitties in the City as the winner because of its work in the community and its focus on responsible pet ownership. After the event we look forward to sharing updates with our very active Dogtoberfest in EAV Facebook community, so that people can feel good about where their money is going."
"In addition to supporting metro Atlanta rescues, we wanted to give back and support the community we call home," added Janis. "Owning a dog is a lot of work and being a responsible dog owner is very important. We would like to provide resources to help everyone. One of our first goals is to provide poop bags and water bowls throughout the business district. This is just the beginning for Dogtoberfest in EAV."
If you would like to get on board as a sponsor, vendor, raffle contributor, or volunteer, please contact dogtoberfesteav@gmail.com. More information can be found on the Dogtoberfest in EAV Facebook page. Until then, mark your calendars and start working on your dog's Halloween costume.