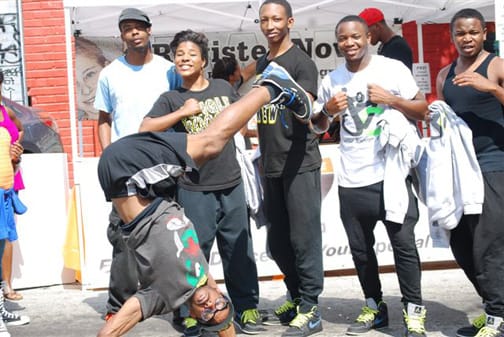 By Jean Hallman
Dance 411 Studios took first prize in this year's East Atlanta Village Strut Parade. The September 17 entry included staff, interns, owners, and dancers. This was Dance 411's first year participating in the parade portion of the Strut and was awarded a trophy for the win.
"It's such a fun honor to win the Strut Parade trophy," said Sindy Schneider, co-owner of Dance 411 Studios. "It's a testament to how much all of us love to dance and how it's an important part of our community."
The East Atlanta Village Strut was in its fourteenth year and included a circus, live local music, comedy, a 5k run and walk, artist market, parade, and more. The Strut was planned, organized, and staffed with volunteers for the community.
Dance 411 also participated in the Strut with a booth. The booth sported dance circles, battles, flipping, and fun for the entire family. The dance crew Jungle Boogie of MTV's America's Best Dance Crew fame was in the booth and helped to showcase Dance 411's talented staff and dancers.
To learn more about Dance 411 Studios, please visit www.Dance411Studios.com. Dance 411 Studios is located at 475 Moreland Avenue SE.