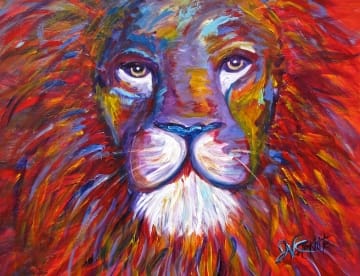 By Katina VanCronkhite
Artist Janice VanCronkhite celebrates themes of love, faith, hope, and the beauty and bold spiritedness of life in her diverse acrylic and mixed media artwork that will be exhibited at the East Atlanta Library from May 20 through July 15. Swirls of blues, purples, reds and bursts of light frequently accentuate "portals" that lead the viewer to explore deeper inspirational realms.
Janice grew up in Illinois where her passion for art was nurtured by her mother, a commercial artist. She studied art at Florida State University, but her tennis scholarship, followed by a career as a world-ranked tennis player and professional, pushed her art into the background. It took almost two decades for Janice to get back to her easel. While she and her husband David led a ministry in Atlanta for homeless men and women and addicts, she began painting again and soon was overseeing a full-time art business.
Janice believes art is a daily reminder of God's creativity around and in all people. She leads workshops and retreats designed to encourage artists of all levels to be released into their own unique style of creativity. When not painting or leading workshops at her studio/gallery on Lake Oconee, Janice calls East Atlanta home.
Come meet Janice and enjoy her inspirational art as well as wine and refreshments at a reception on Saturday, June 16 from 3:30pm to 5:30pm. The reception, hosted by the Friends of East Atlanta Library, will be held in the EAL Meeting Room and is open to the public. All displayed art and many prints of her work will be available to purchase during the reception. A portion of all sales will be donated to the Friends of East Atlanta Library. You can view Janice's online gallery at www.jvcArtworks.com. The show is sponsored by the Friends and the Atlanta Fulton County Library.