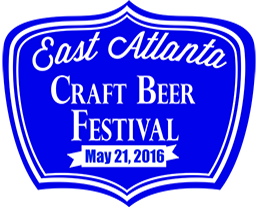 By Carlen Hultgren
Have you ever wondered what powers a beer festival? Beer would be the obvious answer. But, according to the East Atlanta Foundation (EAF), who put on the annual East Atlanta Craft Beer Festival, the third Saturday each May, it's you, and people like you.
When you buy a ticket, all the proceeds go to the EAF and its mission to raise awareness of the East Atlanta neighborhood and the East Atlanta Village (EAV) small-business district within the larger metropolitan Atlanta area. Second, it generates funds to be provided as grants to local groups engaged in projects that benefit the East Atlanta neighborhood. There is no paid staff. The East Atlanta Foundation, Inc., and its non-profit 501(c)(3) is a totally volunteer-powered organization. No person obtains any financial benefit from it, other than the vendors from whom items are rented or services purchased, for events. (Tents, stages, fireworks displays, security, etc.)
The EAF supports a variety of local organizations and initiatives and has distributed more than half a million dollars in grants. Proceeds from events, including the East Atlanta Craft Beer Festival and New Year's EAV, have been provided to:
BATL – Battle of Atlanta Commemoration Org, Inc.;
Branan Towers Retirement Community;
Burgess-Peterson Academy, our neighborhood public elementary school;
East Atlanta Business Association;
East Atlanta Community Association (EACA);
East Atlanta Kids Club;
East Atlanta Village Farmer's Market;
East Lake YMCA;
FitWit Foundation;
Friends of East Atlanta Library;
Historic Sylvester Cemetery;
Journey Performing Arts Center/Dance 411 Foundation;
Martha Brown United Methodist Church;
Neighbor in Need – East Atlanta, which funds home repairs for East Atlanta residents who are unable to do so themselves.
This year's East Atlanta Craft Beer Festival takes place in the heart of East Atlanta under the trees of Brownwood Park, Saturday, May 20, 2017, from 1:00pm to 5:00pm. The exact address, for your "maps app" or Uber driver is 1247 Portland Avenue SE, Atlanta, GA 30316.
VIP Admission is $75, with a limited number being sold. It includes early entry to the festival beginning at 12:00pm, a wristband, a tasting glass, and access to 200 plus beers. In addition, VIPs have access to the VIP area pavilion, at least 12 specialty beers only available to VIPs, and, perhaps most important, VIP bathrooms. Early Bird General Admission tickets are $40 until May 13, after which the price increases to $50, while they last. All ticket holders receive a wristband and souvenir tasting glass. This is a 21 and older event, no exceptions.
East Atlanta Craft Beer Festival has been 100 percent volunteer-powered since 2003. Volunteers work in shifts to unload the beer and ice, set up the tents and tables, serve the beer, and break it all down at the end. Do you want to meet some new people, score an R. Land-designed t-shirt, and sample craft beers for free? Go to www.eastatlantabeerfest.com and press the Volunteer button for access to a great time (for free!), knowing that you are supporting very local organizations that support the community in often quiet ways.