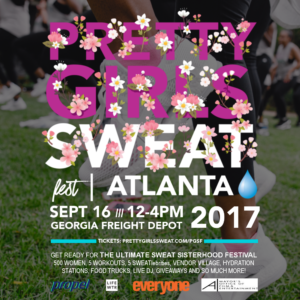 By Jean Hallman
Several members of the Dance 411 Youth and Performance Company have the honor of participating in Pretty Girls Sweat Fest Atlanta on Saturday, September 15. The girls will perform in an opening program routine and have also created a 16 minute workout video highlighting their dance skills.
"We are truly excited to be a part of such an incredible event," said Anggie Pope, Fitness Coordinator for Dance 411 Studios and instructor at last year's Pretty Girls Sweat Fest. "It's exciting to see positive change and the motivation of these girls to be healthy -inside and out."
Pretty Girls Sweat Fest is an effort by founder Aeshia DeVore Branch to solve the obesity epidemic in the U.S. Branch was inspired by motherhood and First Lady Michelle Obama's "Let's Move" campaign. Pretty Girl Sweat Fest is designed to get teen girls active and prove that fitness can be fun. Routines are set to upbeat and empowering music and include a workout filled with dance and fun games.
The Atlanta Sweat Fest is open to the community. This year's event is expected to draw over 700 women. In addition, there will be seven fun workouts, seven SWEATlebrity Honorees, seven Incredible Captains, healthy food trucks, a beauty bar, and complimentary swag.
For more event details, a schedule, and registration, visit www.prettygirlssweat.com. For more information on the award-winning Dance 411 Youth and Performance Company, Dance 411 Studios classes, programs, or events, visit www.Dance411.com. You can also call the studio at 404-622-4110, or email Info@Dance411.com.