By Marie Mower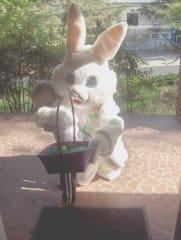 The puppet show series is successful in our neighborhood! The location moved from the Grant Park recreation center to Park Avenue Baptist Church on the corner of Sydney Street and Park Avenue. Pastor Tony Lankford offered the church's beautiful sanctuary where everyone can sit comfortably with optimal viewing of the puppet show. We will continue with two more shows on Tuesday, February 19 and March 19.  Admission is $3.00 per person (under two years old free), and doors open for seating at 5:45pm. You are welcome to come earlier with your dinner at 5:15pm.
Last month The Grant Park Parents Network (GPPN) offered pizza for sale by the slice, however we encourage everyone to bring their own food. We cannot guarantee pizza since it is first come, first serve ($3.00 per slice with milk or apple juice).
The Easter Bunny's cousin, the
Fun Bunny
, will be bringing treats to your home during Easter Weekend. How delighted your child will be to have a personal visit, or watch from a window while the bunny hides a treat in the yard!  This is a fundraiser for the Grant Park Parents Network with limited visits at $35.00. Please visit the website for details at
www.grantparkparents.org
or call 404-434-6022.
Many families haven't begun school yet, but you can help strengthen our schools by collecting specially marked box tops. These symbols are on all sorts of store-bought items in your pantry. The Grant Park Parents Network will collect these at our puppet shows and at the Grant Park Farmers Market when it opens this spring. With or without children, please collect these box tops, save them, and give them! Box tops do have an expiration date and each one has monetary value to a school. GPPN will divide collected box tops between schools every month.
Grant Park Parents Network events can be found on Facebook and the website at
www.grantparkparents.org
. Email questions to
president@grantparkparents.org
.