By Rebecca Wallace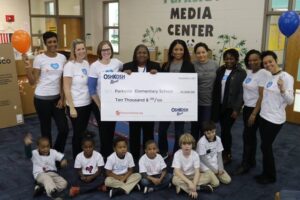 Recent weeks have brought much-needed financial, supply, and programmatic gifts to Parkside Elementary School. To its credit, this past fall, staff at Parkside ramped up their activity on DonorsChoose.org; the school's GO TEAM went after several grants; and PTA continued its work building relationships with community businesses and organizations — all efforts of which have reaped substantial benefits for the school.
DonorsChoose was created for educators to raise money for school projects and supplies. "It's like crowd funding for education," said Sarah Cottone, Parkside's Media Specialist. The site was started by teachers that didn't want to go through some of the more traditional fundraising sources (and get taxed on donations). Educators create their own profiles and essentially "get to go shopping," Ms. Cottone added. She and others at Parkside have been aggressively using the site, building profiles with projects and wish lists, and soliciting donor activity through social media and other vehicles.
As a result, OshKosh/Carters chose Parkside to sponsor all 18 projects Parkside educators posted in November and December. The company then donated an additional $10,000, which was split equally among the Parkside educators, coming to roughly $200 each to go towards additional projects and supplies purchased through the site. Some of the supplies funded through DonorsChoose range from books and STEM kits to technology and a T-shirt press, requested by Parkside's special education department, so they can easily create their own shirts for field trips and travel.
Other exciting news came in the fall when Your Pie, a pizza place that recently opened in Grant Park on Memorial Drive, announced it would host three nights of free dining during the restaurant's "soft opening" for all three neighborhood elementary schools – Parkside, Atlanta Neighborhood Charter School, and Wesley International Academy. The schools were responsible for getting families out to experience the new restaurant and encourage donations that would be split among the schools at the end of the opening. When the schools did their part and raised enough so that each school received $1,240, an anonymous donor matched the donations, for a total of $2,480 coming back to Parkside.
Then, three amazing grant-funded programs were won in recent weeks. One is CREATE, a teacher residency program where teachers in training join some of the school's more experienced teachers, supporting the class, but then eventually joining the team. Two more grants will focus on improving students' reading skills. They are REAP – Reading is for Every Person and the Everybody Wins Atlanta grant, both of which will provide resources and extensive training for teachers.
Finally, the school just learned that it is a beneficiary of the Atlanta Local Food Initiative Orchard Grant, which will enable Parkside to expand its orchard this semester.
"I'm so proud of our staff and parent volunteers that have put so much time into these efforts that have literally paid off," said Principal Timmy Foster. "These gifts and programs couldn't come at a better time as our school continues to grow and evolve."
A Title 1 school in the Jackson Cluster of Atlanta Public Schools, Parkside Elementary serves the Grant Park, Summerhill, Boulevard Heights, Ormewood Park, Woodland Hills, Glenwood Park and Cabbagetown neighborhoods. For more information, please call 404-802-4100 or visit www.Atlanta.k12.Ga.US/Parkside and www.facebook.com/ParksideElementaryPTA.