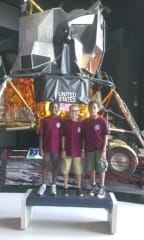 By Ronnie Thomas
Four hardworking fourth grade students from Parkside Elementary School were awarded scholarships to attend the NASA Robotics Camp in Hunstville, Alabama this summer. Kayla Grant, Ian Smith, and Elliott Kerns attended the camp for a week in July. They were selected by Parkside's robotics teacher, Mr. Ronnie Thomas, along with team sponsors Siemens and Panasonic. Jalon Cook was selected as Parkside's Antonio Coleman Science, Technical, Engineering and Mathematics (STEM) Award Recipient and attended Space Camp for a week in June.
All four lucky students were able to experience five days and nights filled with exciting scientific adventures: engineering and designing robotics on land, in the air, and underwater; climbing the tallest mountain on Mars on the Mars Climbing Wall; experiencing 4Gs of liftoff force on the Space Shot™ simulator; seeing an astronaut's view of the earth while watching amazing films in the IMAX® Spacedome Theater and Digital 3D Theater; participating in simulated shuttle missions; seeing the first rocket that put an American in space and the massive Saturn V rocket that took us to the moon; studying the capsules that early astronauts used during their missions; simulating moon walking in a Manned Maneuvering Unit (MMU); and simulating a Mars mission landing.
Overall, science, technology, engineering, and math (STEM) were used in exciting, hands-on educational activities to further motivate students for possible futures in aviation, aeronautics, robotics, and other STEM-related careers. Parkside is looking forward to these students returning to the fifth grade this year, and challenging their younger peers to follow in their footsteps.