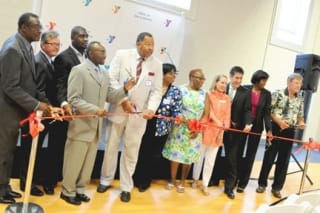 By Chandler Wright
The YMCA of Metro Atlanta's new Youth and Teen Development Center in southeast Atlanta opened on July 5. The center includes an outdoor family pool with a waterslide (open to all YMCA members) plus a digital media center, gymnasium, and cyber café for the teens.
Teens ages 12 to 17 will have opportunities to participate in leadership development programs, academic tutoring, life skills classes, and more. "This facility is going to have a huge impact," says Beverly Banister, board chair of the East Lake Family YMCA, which will operate the center. "We are so excited because it will be a place for teens to come to grow together, to learn together, and to network together. We're going to develop leaders here. The Y recognizes the importance of engaging and expanding the conversation with young people to help shape the future of Atlanta and Georgia."
The pool is open to YMCA of Metro Atlanta facility members. Teens ages 12 through 17 with Y memberships can use the teen center. Teen center hours are 9:00am to 8:00pm, and the pool is open from 10:45am to 8:00pm. The southeast Atlanta Y began as an outreach to the suburbs from downtown Atlanta with offices and a simple facility in East Atlanta in the 1950s. Built in 1959, the original Southeast YMCA building, located at the corner of Memorial Drive and Wilkerson Drive, was renovated to become the new teen center. The facility closed in 2001 when the East Lake Family Y opened a mile east of the original site. For information about memberships or financial assistance, call the East Lake Family Y at 404-373-6561.
What is the Y today? The Y is a powerful association of men, women, and children joined together by a shared commitment to nurturing the potential of kids, promoting healthy living, and fostering a sense of social responsibility. The Y works with neighbors to make sure that everyone, regardless of age, income, or background, has the opportunity to learn, grow, and connect. For more information, visit
www.ymcaatlanta.org
or call 404-373-6561.