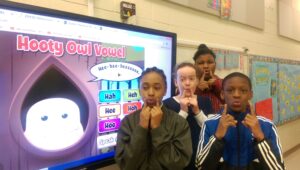 By Ashleigh Spatz
Music programs at Burgess-Peterson Academy are paving the way with innovative music technology. Thanks to generous donations from parents and a local company, the school has raised $1,955.00 to purchase a music technology curriculum called Quaver's Marvelous World of Music for the 2018-19 school year.
So what and who is Quaver? Quaver is a zany character who loves music (think Bill Nye the Science Guy of the music world). This online curriculum includes an assortment of educational activities that make learning seriously fun! The program began as a series of short video episodes, but has since grown into a massive online teaching resource. The curriculum includes a broad range of activities from music history to composition to interactive whiteboard games. Students at Burgess-Peterson have performed several "Quaver" themed concerts including: Not Your Mama's Recorder Concert, Patriotic Sing Along, and their popular annual Holiday Sing Along always features some Quaver favorites.
The activities in this curriculum are engaging and reflective of the music industry today. There are several student interactives included in the Quaver curriculum that mimic actual professional music production software. "QGrooves" is a student favorite. Students are able to move and arrange blocks of sound to create their own songs. These activities spark creativity and are incredibly fun.
Burgess-Peterson has been fortunate to be a pilot school for this program for the past four years. As the music teacher at BPA, I brought the program to the school in 2014. I have worked with the Quaver teaching resources since the launch of the website in 2010. Because of my expertise with this program, I mentored 11 other teachers this year within Atlanta Public Schools to broaden the pilot program. I hope all elementary music teachers and students within APS will eventually be able to benefit from this wide-ranging teaching resource.
Want to learn more or see Quaver in action? You can visit www.quavermusic.com, and come check out two of our dedicated ensembles! The Bulldog Pride Chorus will sing two Quaver songs at their formal concert on May 15 at 6:30pm at Burgess-Peterson Academy, and our Steel Drum Band will perform one of the Quaver songs at the East Atlanta Village Farmers Market on May 3 at 4:00pm.
BPA is a school in the Jackson Cluster of Atlanta Public Schools. We strive to be the neighborhood school of choice as well as a compelling traditional public-school option for the child of any family living in East Atlanta Village and Reynoldstown. For more information, please call 404-802-3400 or visit www.atlantapublicschools.us.