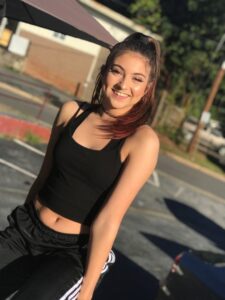 By Jean Hallman
Charlotte Posey, a member of Dance 411 Studios Senior Elite Kids Company, is a driven and responsible teen that is fortunate enough to have found her passion early in life. "I love being able to speak and inspire people through the language of dance. The ability to communicate to someone without having to say words is fascinating to me."
Originally from Dallas, Texas, Posey began dancing in elementary school. From there she became a member of several award winning competition teams and also studied voice and acting. In Atlanta for just over a year now, she has already put down roots at Dance 411 Studios. As a part of the Senior Elite Kids Company, she travels nationally and performs in prestigious competitions.
Posey trains in all styles of dance under instructors Brooke Bowe, Jeremy Green, Bryce Speaker, and Brianna Norwood and is inspired by each in a unique way. "I feel like I'm stepping into my second home at Dance 411. My teachers and teammates are family and we love dancing and inspiring each other," said Posey. "I feel like the best version of myself when I'm in the studio learning with them."
If you would like to see Charlotte and other talented kids perform, the Dance 411 Holiday Showcase will be held on Sunday December 10, 3:00pm at the Porter Sanford Performing Arts and Community Center located at 3181 Rainbow Drive in Decatur. The show is a wonderful way to celebrate the holidays and support the kids.
For tickets and information please visit www.dance411holidayshow.eventbrite.com , www.Dance411Studios.com, or call Dance 411 Studios at (404) 622-4110.