By Amber Rhea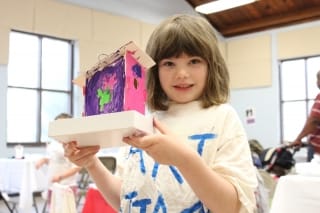 It was a colorful scene at the Brownwood Park Recreation Center on the morning of Thursday, April 11. During the week of Atlanta Public Schools' spring break, local children gathered to learn about birds and create their own birdhouses. The event was led by Susie Antell of Art Attack, a local "traveling art studio for your petite Picasso." Susie led the kids in a fun introductory song and book reading, and then helped them get started building and decorating a birdhouse to take home and hang in their yards for the birds to nest in. Kids ranging in age from 2 to 10 loved getting creative with brightly-colored paint and easy-to-assemble birdhouse kits.
This was truly a community event. Bell Roofing donated a variety of wooden birdhouses. Endulge Cupcakes provided delicious chocolate and vanilla cupcakes that were enjoyed by parents, grandparents, and kids alike. Hodgepodge provided coffee, which the adults appreciated! A local anonymous sponsor paid for the art supplies and art instruction from Art Attack.  Red Robin Group Real Estate Services organized the event, publicized it through social media, and provided snacks, drinks, and bird-related gift bags.
According to those who attended, the event was a resounding success. Parent Jenna Mascarenas said, "It was a great experience for my daughter…she's still talking about it!" Amanda Blank said that her kids loved "the dance party, storytime, snacks, coloring, and the art project," and that "everything was well organized and orchestrated." (The dance party was completely impromptu – initiated by the kids themselves! And who can blame them – spring weather makes everyone want to move!) Jessica Harlan added, "It was a nice activity to break up the spring break week."
The birdhouse building event is something Red Robin Group has sponsored in the past and will continue to sponsor in the future. It is free to the community and provides a delightful opportunity for children to be creative, get involved, and learn about the birds that help make springtime in Atlanta so vibrant. Keep an eye on Red Robin Group's Facebook page for information about more upcoming community events at
www.facebook.com/RedRobinGroup
.