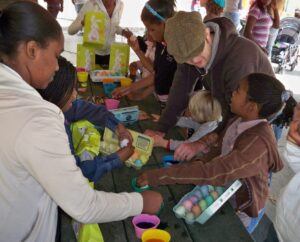 By Makeisha Robey
Hundreds of plastic eggs filled with candy will be lurking in Brownwood Park on Saturday, April 16, waiting for neighborhood children to come and find them!  The annual Easter Egg Hunt happens at 11:00am, and will be followed by real egg decorating, an egg spoon race, and other fun activities for kids of all ages.
Kids and families are advised to arrive at 10:30 am and to wait inside Brownwood Recreation Center, where they will enjoy fun Easter-themed activities.  The egg hunt in the park will be split into a baby -toddler area and a larger, hunting ground for kids four and older.
East Atlanta Kids Club, Martha Brown United Methodist Church, and East Atlanta Village Church are sponsoring this year's Easter celebration. Donations of candy and volunteers to stuff and hide several hundred plastic eggs are needed. If you'd like to help out, please contact East Atlanta Kids Club Program Coordinator Makeisha Robey at 404-627-8050 or mrobey@eastatlantakids.org.