By Stella Berzsenyi and Alix Teschner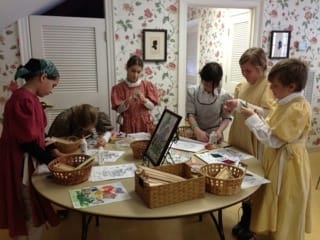 As you might know, Grant Park is the home of Girl Scout Troop 3107. When you think of Girl Scouts, you might automatically think of Girl Scout cookies and scouts helping people cross the street. But Girl Scouts do a lot more than that, including travel all across the United States and overseas to places like Peru, Germany, and even China. Girl Scouts travel to see the world and expand their imaginations.
The most famous place Girl Scouts visit in the United States is in Savannah, GA: the Juliette Gordon Low House. Juliette Gordon Low founded Girl Scouts in 1912. It is a tradition in Troop 3107 for girls to travel to Savannah and visit the JGL house when they are fifth grade Girl Scout Juniors.
Isabelle Poore, an 8th grade Cadette with Girl Scout Troop 3107, remembers planning the trip to Savannah with her patrol when they were in fifth grade. They used "cookie dough" (money raised from selling Girl Scout cookies) to help finance the trip. According to Isabelle, "You get the true meaning of Girl Scouts when you travel to other places and see different people and learn about their cultures."
Flora Smith, a current 5th Grade Junior with Troop 3107, just returned from her patrol's first big trip to Savannah. According to Flora, "We learned about Juliette [Gordon Low's] lifestyle and what she did daily. We got a tour of the Low household and we played games to get the feel of how life was back then." Besides going to the Low house they also went on a ghost tour.
Another great destination for Girl Scout travel is Switzerland, the location of the first WAGGGS Center (World Association of Girl Guides and Girl Scouts), built in 1932. At WAGGGS, scouts can spend time in the wilderness, take a tour of the capitol and visit some of the grand castles in the area. They can walk along along the Englisten River, travel to the Rehardt Adventure Park to zipline and climb ropes, and hike to the Alboden Wood Carvers' shop.
The 9th grade Girl Scout Seniors with Troop 3107 are planning a trip to the WAGGGS center in Switzerland. These girls will be at the Grant Park Farmer's Market every Sunday that it is open selling water to raise money for their trip.
Traveling is one of the main pieces of being a Girl Scout, allowing scouts to face their fears, meet new people, and try new things. Troop 3107 can't wait for their next traveling adventure!
Note: Stella and Alix are 6th grade Cadettes with Troop 3107