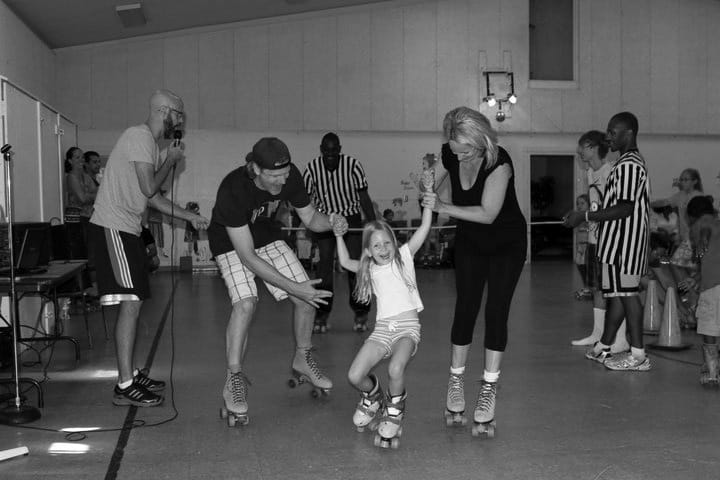 By Rebecca Wallace
St. Paul United Methodist Church in Grant Park presents Evenings at St. Paul, a series of programs of fun-filled activities, from music and dancing to book signings and sports. Open to all St. Paul neighbors, the monthly program series kicked off in July with a roller skating party, Heaven on Wheels that packed more than 80 skaters in the church gym. With music and contests, skaters of all ages had a great time.
We are hosting Evenings at St. Paul to show our neighbors a different side of us," said Rev. Susan Allen Grady. "And boy, did we show a different side at the roller skating party! It was a perfect start to what we want this program series to be–fun and fellowship for neighbors and church members alike," she said.
Next up is a book signing and reception with Jennifer and Philip Cuthbertson, authors of the book, Historic Grant Park on Saturday, September 10, from 6:00pm-8:00pm. Recently released, Historic Grant Park is the story of Atlanta's oldest public park and the surrounding residential area that experienced a bustling community, urban decline, and a late-20th-Century comeback. While the reception is free, books can be purchased at the event for $25, which includes a $3 donation to the St. Paul Covenant Campaign, a fundraising effort to both repair the church's beautiful, 100-year old sanctuary and serve the greater Atlanta community. Each dollar raised during the Covenant Campaign will be split 50-50 between the capital fund and the Good Neighbor Fund, dedicated to insure individuals and families have a safe, habitable living space. Proceeds from all Evenings at St. Paul will go to the Covenant Campaign.
On October 15, St. Paul will host a traditional fall festival with pony rides, hayrides, harvest-style crafts and games, food, live music, and activities to celebrate the season. Held in the church gym and on the street outside of St. Paul's sanctuary, the festival will be 12:00pm-3:00pm and cost $5 per person.
Future "Evenings at St. Paul" programs include:
Nov. 12, 5:00pm-7:00pm "Jubilee Jam" book signing and reception with Ellen Love and Ashley Miller
Dec. 10, 5:00pm-8:00pm–Hayride Christmas Caroling and visits with Santa during the Candlelight Tour of Homes
Jan. 21, 2012, 5:30pm-7:30pm–Chickin Feed Presentation with Leslie Grant
Feb. 11, 2012, 6:00pm-8:30pm–Valentine's Dance
For more information about this and other Evenings at St. Paul programs, please call 404-688-7501, or email
outreach@stpaulgrantpark.org
. You can also "Like" and follow St. Paul United Methodist Church on Facebook.