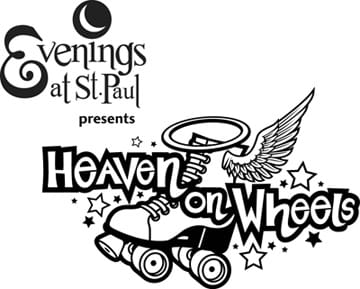 By Rebecca Wallace
St. Paul United Methodist Church in Grant Park presents Evenings at St.  Paul, a series of programs and fun-filled activities from music and dancing to games and sports. Open to all St. Paul neighbors, the bi-monthly program series kicks off with the Heaven on Wheels Roller Skate Party, July 16, 2011, from 5:00pm to 8:00pm in the church gym. The cost of admission is only $5 and includes skate rental. Snacks and drinks will be available for purchase.
"We are hosting Evenings at St. Paul as a way to get to know our neighbors better," said the Rev. Susan Allen Grady. "We wanted to come up with something that is outside of church services, bible study, or even mission work. We just want to have some fun and allow our neighbors to see a different side of us," she said.
Evenings at St.  Paul will feature different programs throughout the year. Though all Evenings at St. Paul will be family-friendly, you don't need kids to participate. The 2011 programs include St. Paul's Fall Festival on October 15 and Hayride Christmas Caroling on December 10 as part of the Candlelight Tour of Homes.
Proceeds from "Evenings at St.  Paul" will go to the church's Covenant Capital Campaign, a fundraising effort to both repair the church's beautiful, 100-year old sanctuary and serve the greater Atlanta community. In addition to the capital funds raised, the campaign's Good Neighbor Fund is dedicated to insure individuals and families have a safe, habitable living space. Each dollar raised will be split 50/50 between these two funds.
To volunteer for the Heaven on Wheels Roller Skate party on July 16, please contact Justine Holcomb, justineschuchard@hotmail.com, 404-210-4750. For more information about this and other Evenings at St. Paul, please contact St. Paul United Methodist  Church, 501 Grant Street, at 404-688-7501 or by email at office@stpaulgrantpark.org. You can also "like" and follow them on Facebook.