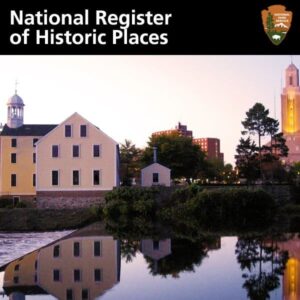 By Stephanie Cherry-Farmer
This spring, students in Georgia State University's graduate program in historic preservation will be completing a draft nomination for East Atlanta to be listed as a historic district in the National Register of Historic Places (NRHP). The Students are looking to neighbors and friends of East Atlanta to help with this task. Listing East Atlanta as a historic district in the National Register would create additional options and incentives for retention of our community's historic character, without imposing any regulation or restriction of property rights.
The National Register is our country's official list of historic buildings, structures, sites, objects, and districts worthy of preservation. Currently, more than 82,000 historic properties in Georgia are listed on it, although the Zuber-Jarrell House on Flat Shoals Road is the only National Register-listed property in East Atlanta. The National Register recognizes both individual properties and groups of properties that are related historically, known as historic districts. Historic districts registered in our immediate vicinity include Reynoldstown, Kirkwood, and Candler Park.
A narrative developmental history constitutes a significant part of the nomination document. The students will need the help of East Atlantans, both current and past, to document as much of East Atlanta's development from the 1880s through the 1970s. Throughout the project, students will be available to meet with anyone who has historical information to share. Additionally, an East Atlanta History Night is scheduled for 7:00pm on March 7 at Branan Towers located at 1200 Glenwood Avenue. The public is invited to bring old photographs, house plans, articles, real estate ads, business ads, property sales brochures, yearbooks from the neighborhood schools, old church bulletins, and any other type of historical documentation relevant to East Atlanta. The students will have scanners on site to copy this documentation, and they will be prepared to interview anyone with oral history to share.
Properties listed in the National Register may qualify for specific benefits and incentives, including:
State and federal investment tax credits
State and federal preservation grants for planning and rehabilitation
Eligibility to donate preservation easements to nonprofit organizations
County and local property tax abatements
Most of these benefits are predicated on rehabilitation of a listed property. For example, if East Atlanta were listed as a historic district in the National Register and a property owner were interested in rehabilitating one of the village's historic commercial buildings, that owner could potentially qualify for a federal tax credit equal to 20% of rehabilitation costs, and/or a state tax credit equal to 25% of rehabilitation costs. Additionally, they could potentially qualify for county and city of Atlanta property tax freezes. However, these programs are all optional. Property owners could also still demolish the buildings in question or change their properties in any way, subject to no additional regulations or restrictions.
East Atlanta is attracting a lot of attention of late, and our neighborhood's historic character is one of our primary assets. Listing in the NRHP would provide tools and increase options for preservation and revitalization of that character so that it can continue to help East Atlanta attract the city's best neighbors.
Contact Stephanie L. Cherry-Farmer at 609-203-2285 or stephanie.cherry@gmail.com with any questions about this project or to arrange to meet with a student. Please join us on March 7, to help document our neighborhood's history and support honoring this history and future revitalization with a nomination of East Atlanta to the National Register of Historic Places.