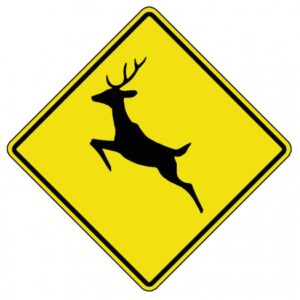 By Nancy Leighton
Southeast Atlanta features a beautiful natural environment, many lovely mature trees, and diverse topography, with both hills and streams in protected valleys. Both humans and wild animals can find a place to live here.
Over the years, from time to time, my neighbors have reported to me that they have seen deer in our area. I have lived here for 26 years, but before this fall I had never seen any deer myself. Then I saw them on Woodland Avenue. I was driving south on Woodland just after sunset. I was near Napier Street when I saw what looked like a large dog crossing the road a few hundred feet ahead near the Intrenchment Creek Bridge. Since animals out on the street can make unpredictable moves, I slowed down to a crawl. The animal crossed the road and as it got to the other side it kicked up its hind legs. I never saw a dog kick its hind legs like that, so I started thinking it might be a deer.
The next time I saw deer was about a month later. It was at twilight again. I was driving south on Woodland Avenue and slowing down for the speed hump about 15 feet north of the Intrenchment Creek Bridge. Suddenly, two deer came up from the east side of the creek bank, crossed the road, and retreated to the bank on the west side. About a week later, I was in the same place at the same time of day and another one crossed in front of me.
In the fall, a spokesman from the Department of Natural Resources (DNR) announced that due to the fires and many months of dry weather, wild animals were on the move throughout Georgia. He further stated that many streams, ponds, and creeks normally used for water had dried up, and the animals were trying to find a new source of water.
The deer going to Intrenchment Creek are probably looking for water, too. I called Louise VanGieri who lives two houses north of the bridge. She says she sees the deer crossing the road there every day, morning and evening.
Deer in the road can be a dangerous situation. If a car hits a deer, it is likely that the deer will be badly injured or killed. The car is likely to be badly damaged or totaled. The people in the car could be injured or killed. Slow down when approaching the Intrenchment Creek Bridge in the 1300 block of Woodland Avenue. There is a speed hump on the north side of the bridge and a new street light to help us see the deer in the dim light.