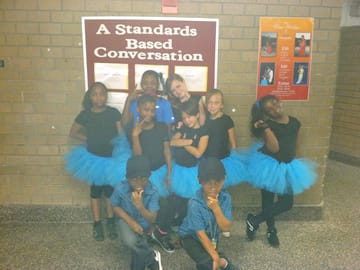 By Jean Hallman
This year's Dance 411 Studios Kids Program Recital was considered a success with close to 500 people attending and 165 children participating. This is the third year the program has held a recital and it took place Saturday, June 4 at Maynard Jackson High School.
"The kids worked for months to prepare for this show, and they did an amazing job," said Sherina (She She) Bustamante, Kid's 411 Program Director. The children imitated the MTV Music Awards and presented many different artists, such as Justin Bieber, Ludacris, Beyonce, and Christina Aguilera. "We had a great introduction to the show. We opened with the red carpet where we actually set up the stage like the real event," said Bustamante.
With the 2011 Recital a wrap, preparations for the 2012 show are already underway. Kids Dance 411 is currently enrolling students for the 2011-2012 Program. The program is set to begin September 12.
To learn more, visit www.kidsdance411.com or call the studio at 404-622-4110. You may also contact Sherina Bustamante (She She), Kids Program Director, at sheshe@dance411studios.com or 404-622-4110, extension 812. Dance 411 Studios is located at 475 Moreland Avenue, Atlanta Georgia 30316.