By Jean Hallman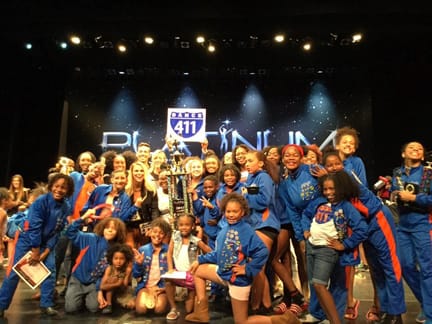 The Dance 411 Performance Company has won many competitions. When we say many, we mean that walking into Dance 411 Studios, you are greeted by a wall display filled with trophies. Along with national competition wins, the group has performed in national TV commercials, music videos, musical tours, and films. Being a member of this team is considered an honor.
What makes Dance 411 Performance Company unique? According to studio owner Sindy Schneider, "We look for dancers who want to learn and everyone is treated as family. We work together, cry together, celebrate together, and grow together."
Auditions for 2019 begin this month. Every eager dancer aged 5 to 18 is encouraged to try out. The company has various levels of performance teams and students who demonstrate an ability to learn and grow are most likely accepted.
Dance 411 Competition and Performance Company's 2019-2020 Season Auditions take place on Sunday, April 14. The first competition of the season will be at the Star Systems Dance Competition on Friday, April 26 through Sunday, April 28 in Athens, Georgia. For additional information, visit www.Dance411.com or call 404-622-4110.