By Rebecca Wallace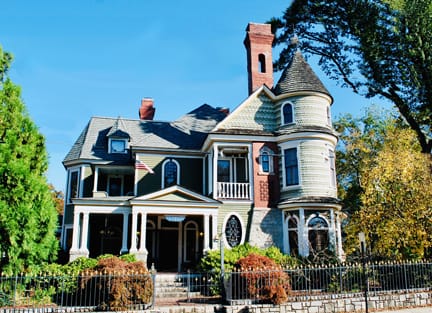 With a fall-like chill in the air, anticipation is growing for Southeast Atlanta's favorite Christmas holiday event, the Grant Park Candlelight Tour of Homes. This year the tour committee is especially excited to present – back by popular demand – a former regular stop that folks just can't seem to get enough of, and that's the Burns Mansion located at 622 Grant Street. Owners Matt and Erin Miller are happy to open their doors once again to this neighborhood jewel, one of the oldest houses in the neighborhood and likely its largest mansion. Repeat tour goers will recall the glass-enclosed, 40-foot well in the kitchen, but also notice new furnishings and touches to delight and inspire.
Don't forget there's lots more to plan for than the tour, including gift shopping! The Artist Market is shaping up to also have return vendors, but some new ones as well. A legacy artist that is returning this year is re:loom, a nonprofit from Decatur that designs and hand-weaves unique items from fabric that was destined for the landfill. Paid, on-site job training helps weavers address obstacles to employment, so your purchase will make a lovely gift, but also an amazing impact.
When planning to pick up your tour booklet at St. Paul United Methodist Church, make time to enjoy the market and other holiday treats, including art and sweets to Santa and song, all to benefit the mission work of St. Paul UMC, as well as the Grant Park Parents Network and the Grant Park Cooperative Preschool.
Tour of Homes: Saturday, 6:00pm-10:00pm & Sunday, 5:00pm-9:00pm
Winter Wonderland: Saturday, 4:00pm-6:00pm
Artist Market: Saturday, 4:00pm-9:00pm & Sunday, 4:00pm-8:00pm
Candlelight Concert: Sunday, 3:00pm
Speaking of the mission work of the church, this year's tour includes a socks, winter hats, and gloves drive. "Tour participants have a chance to 'share the warmth' this season by bringing new items for the drive, which will be distributed to our friends at Intown Cares and the Central Outreach & Advocacy Center," explained St. Paul UMC's pastor, Rev. Cassie Rapko. "These desperately needed items will be among the most appreciated gifts someone can give this season."
The cost of the Tour of Homes is $25 in advance, $30 at the door, and the ticket price includes all the above activities. Visit www.CandlelightTourOfHomes.com regularly for details, updates, and tour house descriptions.
Located at 501 Grant Street, St. Paul UMC offers weekly services on Sundays at 11:00am in person and streamed live on our Facebook page, @stpaulgrantpark. Please call the church at 404-688-7501 or visit www.StPaulGrantPark.org for more information.