Continuous Loop Party Buses Drop-Off and Pick-Up Beer Enthusiasts at Atlanta's Hottest Breweries
By Lauren Klopfenstein, Caren West PR
The Atlanta Beer Bus, a HOP-on/HOP-off shuttle service that transports beer enthusiasts between Atlanta's finest breweries, has officially launched. Offering wallet-friendly entertainment for just $15 per person, riders receive unlimited access to the Atlanta Beer Bus shuttles that travel along a continuous loop where they create their own brewery adventure – staying as long or as little as they like at any location every Friday through Sunday.
Offering safe and reliable transport to Atlanta's best breweries, cideries and distilleries, each bus is equipped with comfortable, heated/air conditioned group seating, great music, and friendly and knowledgeable drivers. Imbibers also have the opportunity to dive into the history of Atlanta's breweries with the help of the Atlanta Beer Bus Beer Nerds, a group of beer-loving experts with deep homegrown roots and knowledge of all things Atlanta – from the city's institutions to off-the-beaten path adventures.
With a love for craft beer and a wealth of experience in both the banking and hospitality industries, the Atlanta Beer Bus was founded by Travis Irions during a trip to Asheville, NC.
"I was inspired by how ingrained the breweries were in the local community and immediately wanted to recreate a similar experience in the Atlanta market," says Irions. "Atlanta's craft beer community is devoted, passionate, and there's an undeniable sense of camaraderie. I could not be more excited to launch a no-fuss and affordable shuttle service that helps to showcase the tremendous talent and unique brewery destinations our city has to offer."
Leading the festivities each weekend, Atlanta Beer Bus stops include: Monday Night Brewing in West Midtown, Urban Tree Cidery, Second Self Beer Company, Scofflaw Brewing Co., Atlanta Brewing Company, ASW Distillery, SweetWater Brewing Company, Orpheus Brewing, Park Tavern, and the Midtown MARTA Station. Routes vary depending on breweries' opening and closing times. For detailed information about the routes, visit atlantabeerbus.com.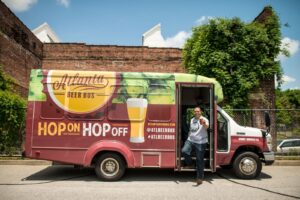 Atlanta Beer Bus Route Schedule
*Times subject to change.
Friday
4 p.m. – 10 p.m.
HOP-On/HOP-Off
Monday Night Brewing West Midtown, Second Self Beer Company, Scofflaw Brewing Co., Atlanta Brewing, ASW Distillery, SweetWater Brewing Company, Orpheus Brewing, Park Tavern, Midtown MARTA Station, Monday Night Brewing West Midtown.
Saturday
12 p.m. – 10 p.m.
HOP-On/HOP-Off
Monday Night Brewing West Midtown, Urban Tree Cidery, Second Self Beer Company, Scofflaw Brewing Co., Atlanta Brewing, ASW Distillery, SweetWater Brewing Company, Orpheus Brewing, Park Tavern, Midtown MARTA Station, Monday Night Brewing West Midtown.
Sunday
1 p.m. – 6 p.m.
HOP-On/HOP-Off
Monday Night Brewing West Midtown, Urban Tree Cidery, Second Self Beer Company, Scofflaw Brewing Co., Atlanta Brewing, SweetWater Brewing Company, Orpheus Brewing, Park Tavern, Midtown Marta Station, Monday Night Brewing West Midtown.
The Atlanta Beer Bus runs on Fridays from 4 p.m. to 10 p.m., Saturdays from 12 p.m. to 10 p.m. and Sundays from 1 p.m. to 6 p.m. For more information, visit atlantabeerbus.com. Stay connected on Facebook, Instagram & Twitter at @atlbeerbus. #ATLBeerBus