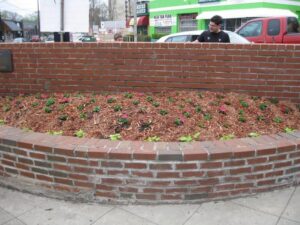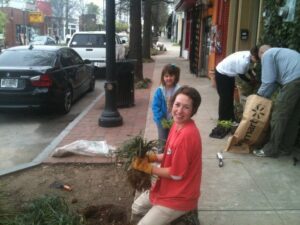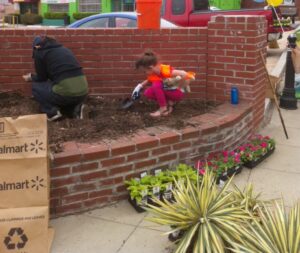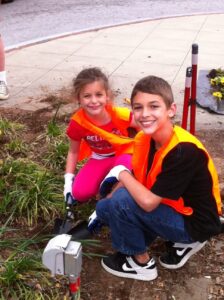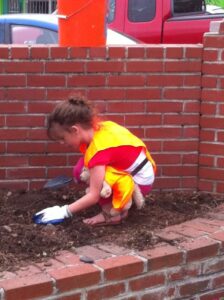 By Stephen Devore
The East Atlanta Community Association (EACA) Beautification Committee kicked off 2011 with a spring planting in East Atlanta Village on Sunday, March 20, the first day of spring.
Beautification Committee Chair Kevin Spigener assembled about 40 dedicated volunteers who gathered in the heart of the Village to weed and plant, from about 2:00pm to 4:00pm. Volunteers worked on the large elevated planter at the northwest corner of Flat Shoals and Glenwood Avenues and on the two main curb planters on either side of Flat Shoals Avenue just north of Glenwood Avenue. They also worked on several planters surrounding trees which line the two streets near the intersection.
In the large elevated planter, the yucca plants and pansies were removed and transplanted into ground level planters, and sweet potato vine and petunias were planted. The petunias will grow with copious fuchsia flowers throughout the spring and summer. The sweet potato vine will eventually spill over the edge of the planter in a beautiful lime-green cascade. Liriope was thinned and divided and then used to supplement the ground-level planters.
Randy Cabe, Garden Center Manager at the Edgewood Retail District Lowe's, assisted in landscape plant variety selection. Joe's Coffee Shop in the Village generously provided water for the new plantings. Volunteers were provided with garden tools and gloves, safety equipment such as vests and traffic cones, and snacks and water, by the Beautification Committee.
Volunteers interested in assisting EACA's Beautification Committee on future plans and activities are encouraged to contact Kevin Spigener at beautification@eaca.net.