By Alison Ross, Francois Guillot, and Cedric Gholston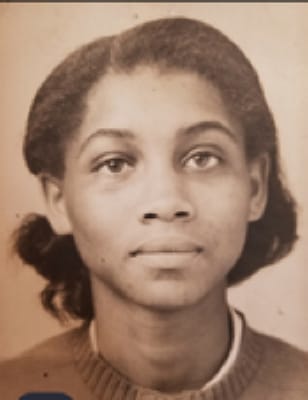 Lucy May Gaynor-Powell, longtime beloved resident of East Atlanta, died on August 13. Lucy lived in the white house on the corner of Stokeswood Avenue and Pendleton Street. She was 89 years old.
During her life, Miss Lucy, as she was affectionately known, was a house cleaner, working throughout Georgia, as well as a live-in maid. Lucy was happily married to Willie Gaynor, who was laid to rest in 1998. While Lucy lived in her cherished home on Stokeswood, "She sheltered as many family members and friends as she could," according to her nephew Cedric Gholston. "Lucy was a straightforward person who spoke her mind, with a lovely gleam in her eyes."
We can attest to this characterization of Lucy. We became friends with her when we moved to the area in the early 2000s. A weekly grocery delivery to Miss Lucy flourished into a friendship. We would chat about the evolution of East Atlanta and many other topics. Lucy's feisty opinions always took center stage, and her bright smile and lilting laugh captivated us.
Lucy also loved cats, feeding as many as she could. Cats lived inside and outside her house. Vyvyan Hughes, who worked at Park Pet Supply, regularly drove Lucy back to her home after she had made a run to the store. "Miss Lucy was the sweetest person," says Vyvyan. "I knew she fed lots of kitties, so while I worked at the local pet store, I would save all the donated kitty food. She walked everywhere and had her grocery bags tied to her walker. I was always worried that she might fall, so I would drive her home. I loved our time together in the car."
When Lucy became ill, she was cared for by her two loving nephews in her home. "She left this world with peace in her heart and a heavenly smile on her face," said Cedric.
Lucy leaves behind her nephew Mr. Cedric F. Gholston and wife Patricia, niece Mrs. Latrice Green, and her two great-nephews, Mr. Jevocas Green and Mr. Makael Green. Lucy was laid to rest in Talbot County, Georgia.
We will eternally long for the days when Miss Lucy, the Queen of East Atlanta, would sit on her porch, waving and beckoning us over to share some conversation and a laugh. May she rest peacefully.