By Terrisita Terry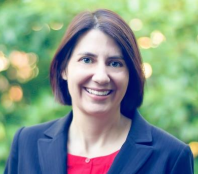 Nicholas House announced that Jannan Thomas has been named Executive Director (ED) of Nicholas House, Inc. She brings more than 20 years of progressive leadership experience in addressing the multitude of complex barriers to sustainable housing and community related services for those experiencing homelessness. Jannan's, track record of results strongly reflects NHI principles for measured and accountable outcomes. Equally, her values and leadership principles accurately reflect those of our organization.
Over the last 10 years Jannan has led and championed programs that have focused on the creation and preservation of affordable housing- a central element to addressing the plight of homelessness. Most recently Jannan, served as Southeast Director of Development for a national nonprofit. Prior to that she's successfully established a track record across roles of increasing responsibility that span the range from Volunteer Advocate to Community Case Manager to Executive Director covering both public and private sectors.
As Nicholas House celebrates 40 years of growth and expanded services to the community as well as providing a hand up to those who are most in need, Jannan's leadership will be a force in helping the organization do even more good. Recognizing that the environment and face of homelessness is ever changing, Nicholas House will also continue to evolve as the organization transforms and realize the Reimaging the Road to Home strategic vision.
"Losing one's home brings enormous challenges for families. I am eager to collaborate with Nicholas House's board and staff to help families experiencing homelessness create a better future. I am so excited to join Nicholas House's many partners, and build new relationships, to bring about lasting change for the families we serve, so they will not be at risk of losing their home again." said Thomas. "Nicholas House is thrilled to welcome the leadership of Jannan to our team! As we look toward our organization's future, as well as the future of infinite opportunities for even more sustainable outcomes for the clients we serve, I am confident Jannan brings the requisite level of passion, commitment, and courageous innovation to our team" said Michael Jones, Board President.The Nicholas House mission is to help homeless families become self-sufficient. For over 40 years, Nicholas House has provided comprehensive housing and case management services to more than 10,000 homeless parents and children. Nicholas House is unique by accepting any composition of family and has long-term successful outcomes—80% of families maintain their own permanent housing a year or more after leaving services. For more information about Nicholas House and details about programs and services provided by Nicholas House,