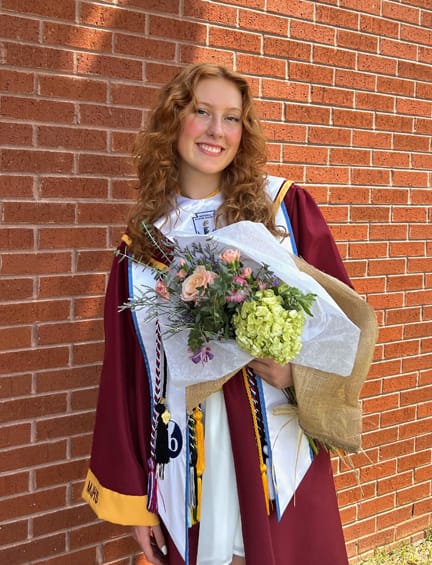 By Abbey Heyns
Good morning families, friends, and graduates!
My name is Abbey, and it is my pleasure to welcome you here today as we celebrate the class of 2023!
As I stand before you as your valedictorian, I feel tremendous honor and pride being a part of this amazing class.
Take a look around you. We are a room full of uniquely different and talented individuals eager to make our mark on the world.
Reese wants to be a film director, Aaliyah wishes to be an author and television host, Jesse hopes to be a pilot in the navy, Gavin wishes to be a fashion and sports photographer, Sophia hopes to be an archeologist, Ayden wants to go into finance and be a professor, Evan wants to become a Pastor, Sanaa hopes to be a movement therapist, Xen wishes to be a chef, Mya wants to be a forensic pathologist. And the list goes on and on.
Our teachers inspire us every day and encourage us to go after our goals. I thank teachers like Mr. Murray who will dress up like Eleanor Roosevelt to teach us History. And teachers like Ms. Byrdtroup who will hug me in the hallway every time she sees me without fail. Or teachers like Dr. Minor who will always be there for us. And faculty members like Mr. H and Mrs. Ortiz who helped us raise over 15 million in scholarship money. Thanks to all the teachers and staff who have supported us along the way.
Our high school experience was unique. We went virtual our freshman year and missed out on a lot. But we made up for it and learned to appreciate the time we did have together. We made memories that will last a lifetime: laughing and staying up until the sun rose with our friends, countless nights cheering in the student section, or even playing out in the field, eating chicken tenders in the school courtyard, or sprinting down the hallway during the hallway sweeps.
We are so grateful for all the moments that brought us here that will forever connect us as the Maynard Jackson Class of 2023.
As we prepare to leave this chapter behind and move on to the next, my advice to you is to always try your best and to do well, but then again don't do things too well or it may backfire and you'll be forced to give a speech to over 3,000 people.
I have no doubt that each and every one of us has the potential to achieve great things in life. So let's embrace the opportunities that come our way, work hard, and have faith in ourselves. To everyone in this room, go after the things that scare you, and the things you really want.
As Mr. Murray would say, "May 24, 2023, today in history, we graduated!"
Congratulations to the Class of 2023!
I grew up in Grant Park and attended the Grant Park Cooperative Preschool, Atlanta Neighborhood Charter School, and Maynard Jackson High School. Growing up in the neighborhood, I have always enjoyed having picnics and going to festivals with my friends. Over the past few years, I ran cross country, played lacrosse and golf, participated in Model UN, and studied art in Rome, Italy. I am looking forward to studying Communications and Architecture at Tulane University with the Founders Scholarship.