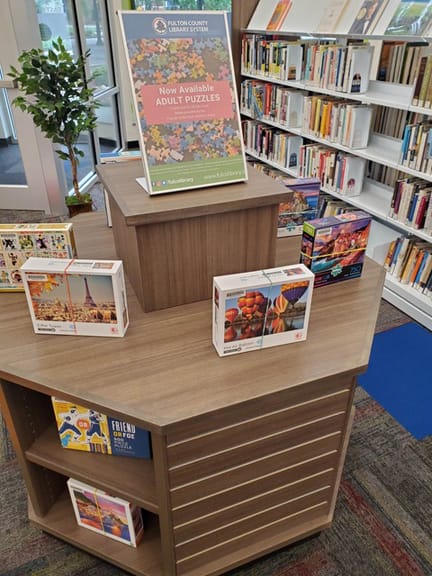 By Shannon Sanders
We are full-swing into the 2023 Summer Reading Challenge, "All Together Now," throughout the Fulton County Library System! Summer Reading started officially June 1. The program is not just for kids; adults and teens can accept the challenge as well! Patrons who wish to join the challenge must register on the Fulton County Library System website, www.fulcolibrary.org/srp2023, or log into a previous account if signed up in previous years.
In case you missed it, a new and unique option is available only at our library branch – patrons can now check out PUZZLES with their library card. We have a variety of puzzles from 200 to 1,000 pieces and a few large piece puzzles. We do not offer young children's puzzles, but several are rated for ages 10 and up. Another great benefit of your library card. Check-out is for 28 days. We hope that this new service at our branch brings in new opportunities for our patrons to get the books, puzzles, and other resources they want and need. We have computers, internet access, printers, a photocopier, study rooms, movies, audio books, magazines, newspapers, and more available for our patrons.
Is someone in your household taking the GED, SAT/ACT/GRE this summer or fall? The library recently received study guides for these books including some AP exam study guides.
We have a full schedule of events this summer for kids and adults – puppet shows, reptile visit, story times, workshops for adults: learning the computer, about Medicare/Medicaid, finance planning including paying for college and more. Check out the full listing of events on our Facebook page – www.facebook.com/friendsofeastatlantalibrary/events or on the library website, https://fulcolibrary.bibliocommons.com/v2/events?locations=EAST_A.
The Friends' Book Club continues to meet on the fourth Tuesday of each month from 6:30pm to 7:45pm. At the June 27 gathering, the group will discuss Trust by Hernán Díaz. We will take a break in July and reconnect on August 22 to discuss, Maame by Jessica George. As with all events at the library, the book club is free and open to the public.
For all of our events and happenings at the library, please follow our Facebook page, @friendsofeastatlantalibrary, as we add more and keep you up to date.
And don't forget to peruse our Book Sale Shelf for gently used books. It is available at any time during library hours. Select books to purchase, pay from your phone, and enjoy. Books are $3 for hardbacks and $2 for softbacks and all proceeds benefit the East Atlanta Library. Donations of a little extra to help cover the processing costs are always appreciated.
Programs like the ones this summer and throughout the year are possible from your membership and book purchases. We invite you to support the East Atlanta branch by becoming a FEAL member at www.friendsofeastatlantalibrary.org. Membership is tax-deductible and all proceeds directly support the programs and supply needs at our East Atlanta branch.