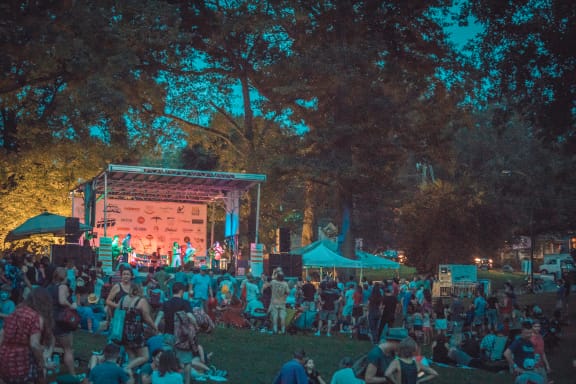 The Grant Park Conservancy has revealed the live music lineup and schedule for the 17th annual Grant Park Summer Shade Festival on Saturday, August 24 and Sunday, August 25, 2019. Earning a reputation as a must-attend event to see some of the hottest up-and-coming bands, local talent and notable favorites, festival goers are invited to watch two days of nonstop high-energy performances. Featuring a diverse lineup for all tastes, 2019 artists include Blair Crimmins, Stripped, Cicada Rhythm, Common Ground, Old Ceremony, Mafia do Samba, ASH, R.A.H, and many more.
Produced by and benefiting the Grant Park Conservancy, the 2019 Grant Park Summer Shade Festival is open to all ages and free to attend. In addition to the impressive music lineup, this year's festival will also have an expansive artist market, a Kids Zone presented by Grant Park Parents Network, the annual Adams Realtors Run for the Park 5K, a diverse selection of local food trucks, wine, frosty beers, craft cocktails, and more. Additionally, tickets are now available for the exclusive VIP Lounge. Attendees are invited to relax in a private tent and enjoy complimentary food from a local caterer, premium wines, Monday Night Brewing craft beer, and the Signature Summer Shade Cocktail served in a souvenir cup. Guests are also invited to enjoy private, air-conditioned restrooms, misting stations, lounge seating. Both single day and weekend VIP tickets are available for purchase at www.summershadefestival.org/vip.
2019 Grant Park Summer Shade Music Performer Lineup:
Cherokee Stage:
Saturday, August 24th
10:30 a.m. Yoga
12:00 p.m. Pharr
1:00 p.m. Yes Ma'am
1:55 p.m. Jimmy Galloway
2:50 p.m. COT Band
4:05 p.m. R.A.H
5:00 p.m. ASH
6:00 p.m. Mafia do Samba
7:00 p.m. Common Ground
8:30 p.m. Stripped
Sunday, August 25th
12:00 p.m. Brother Moon
1:15 p.m. Captain Crimmins
2:25 p.m. Old Ceremony
3:50 p.m. Cicada Rhythm
5:10 p.m. Blair Crimmins
For the most up to date information about the 17th annual Grant Park Summer Shade Festival and additional details, visit www.summershadefestival.org. Stay connected on Twitter and Instagram at @GPSummerShade and Facebook at www.facebook.com/SummerShadeFestival.